FirstHand Curriculum
A first hand experience with STEM, design, and entrepreneurship.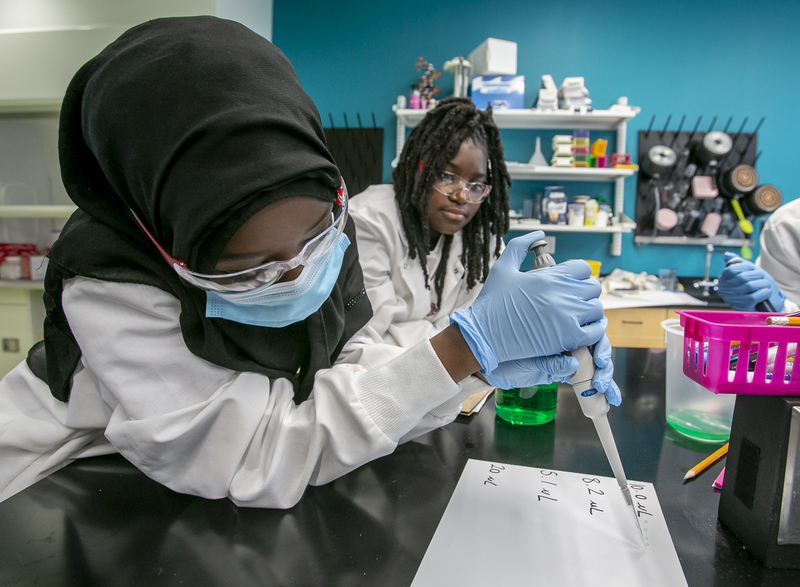 Middle School Tracks
Participating middle school students perform hands-on experiments, design prototypes, and meet real-world STEM professionals. We currently offer the following middle school tracks:
Polymer Play
Students create, test, and design with their own biodegradable polymers while gaining an understanding of what it really means to be a material scientist.
DNA Selfie
Students understand the structure and many functions of DNA through practicing microscopy and gel electrophoresis, the same technologies that biotechnology companies use every day.
BioMake
Developed in collaboration with researchers at the University of Pennsylvania, students create their own genetically modified organisms (GMOs) and then design, bake, and market a snack utilizing these GMOs.
STEM in the Real World
"When would I ever use this in real life?!" - a question often asked by students. This summer program explores real-life applications of science through hands-on experiments in students' homes – all supplies are provided.
Hi5
Five days, five STEM career paths. Hi-5 is a summer program that highlights careers in microscopy, materials science, taste and smell research, and more. FirstHand alumni serve as mentors by helping to develop student activities and supporting facilitation of the sessions.
Future Techstyles
This course is a middle school level introduction to design thinking, e-textiles, wearable technology, and Naval uses of technology. Students will apply design thinking principles to prototype new uses for e-textiles and wearables that have meaning to them. We will engage subject-matter experts from the Navy throughout the program, and receive an introduction to soft robotics. Students will also use technology such as Makey Makey and take home their own Micro:bits!
High School Sprints
FirstHand Sprints are collaborations between industry mentors and FirstHand.

Each curriculum is co-designed and co-delivered by the mentors and the FirstHand team to reflect the skills and topics of the emerging industry while centering the needs of Philadelphia students.

Sprints range from 16-36 hours of instruction time, occurring outside of regular school hours.

how to participate:
Students are selected through an application process
Open to all Philadelphia high school students
Why you should participate:
Sprints are FREE and participating students will earn a stipend!
Sprints offer an opportunity for high school students to connect with credentials and internships.
Our FirstHand Sprints include:

Interested in being a FirstHand Mentor?
Inspire the next generation of STEM professionals by serving as a mentor to our FirstHand students. Our mentors are scientists, designers, entrepreneurs, and engineers, but we welcome mentors with all types of backgrounds and skill sets.
Find out how