middle school track
Students explore real-life applications of science through hands-on experiments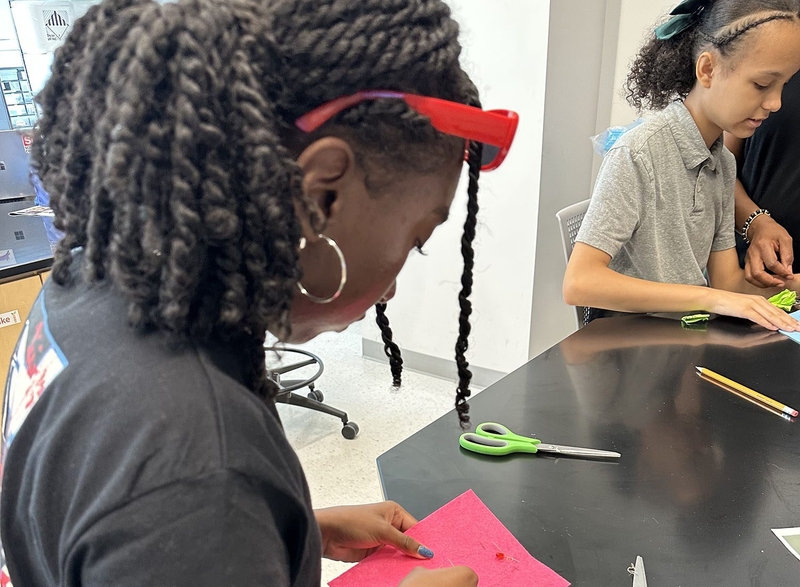 Future Techstyles
This course is a middle school level introduction to design thinking, e-textiles, wearable technology, and Naval uses of technology.

Students will apply design thinking principles to prototype new uses for e-textiles and wearables that have meaning to them. We will engage subject-matter experts from the Navy throughout the program, and receive an introduction to soft robotics. Students will also use technology such as Makey Makey and take home their own Micro:bits!

Course Details
PROGRAM LOCATION
Courses will be held at 3675 Market Street, 5th Floor (In-Person) in the FirstHand lab.

Student fit
This program is open to middle-school aged students who attend a FirstHand partner school, and is a great fit for those interested in science, technology, and hands-on learning in a lab setting.
About FirstHand Middle School Tracks
Participating middle school students perform hands-on experiments, design prototypes, and meet real-world STEM professionals.
Interested in being a FirstHand Mentor?
Inspire the next generation of STEM professionals by serving as a mentor to our FirstHand students. Our mentors are scientists, designers, entrepreneurs, and engineers, but we welcome mentors with all types of backgrounds and skill sets.
Find out how