STEM Founders Fellowship
An immersive startup experience for first generation, postgraduate STEM-related degree candidates.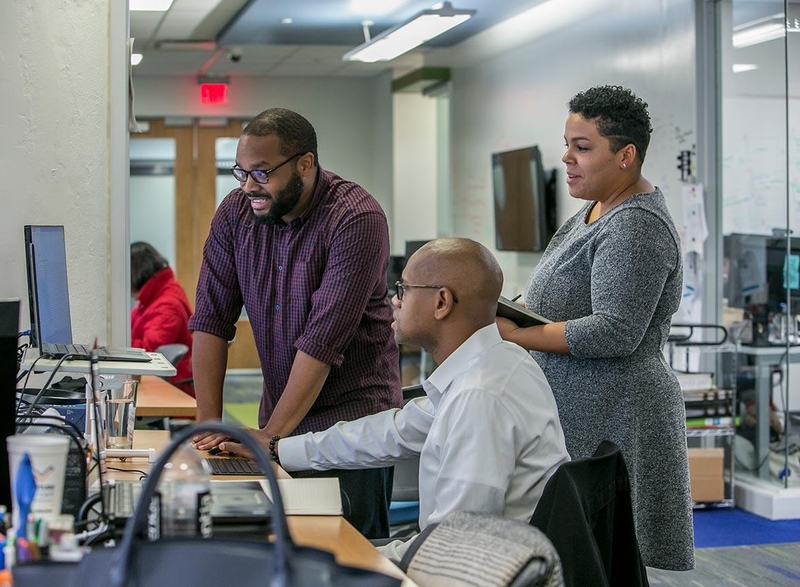 STEM Founders Fellowship
A 12-month experiential program for first generation graduate students and doctoral candidates designed to give academic researchers hands-on startup experience and support to transform concepts into a business reality.
The Fellowship includes in-person lectures, online workshops, and facilitated meetings with startups that will be delivered over 12 months in two phases: Immersive Learning and Active Building.
Application deadline: August 12th
MONTH 1
Company portfolio management & support
MONTH 2
IP, legal and technology transfer
MONTH 3
Regulatory support and pathway
MONTH 5
Valuations and deal screening
MONTH 6
Investor relations and discovery
months 7 - 12
Active Building
Fellows will apply lessons learned from the Immersive Learning phase to transform their business concepts into a business reality. Fellows will explore capital and private investment and develop a path to market.
Deliverables
SBIR/STTR application
Company legal structure definition
IP option or license agreement execution
Due diligence package development
Customer discovery for prototype development
Fundraising and partner development cultivation
Program Benefits
A COMMUNITY OF PEERS
The ic@3401 Incubator is the largest community of funded, early-stage tech startups in the Philadelphia region – housing approximately 50 companies largely focused on life science and healthcare innovations. Fellows will also have access to the Science Center's robust network of industry experts, investors, and entrepreneurs.
STIPEND
Fellows will receive a $50,000 12-month stipend.
Eligibility
Application deadline: August 12th
In order to be considered, applicants must have:

Pursuing an advanced degree in a STEM field from an academic institution in Pennsylvania, New Jersey, or Delaware

The ability to commit 20 hours per week to the Fellowship

Be within a reasonably commutable distance to the Science Center

An entrepreneurial concept related to life sciences and healthcare

Startup proposal must demonstrate a clear market need with clear explanation on how the startup will be feasible, impactful, and scalable
The Science Center is committed to ensuring that Founders Fellows are reflective of Greater Philadelphia's demographics. We encourage historically underrepresented candidates to apply.
Questions?
Reach out to us to learn more.
Contact us