FirstHand Mentors
Inspire the next generation of STEM professionals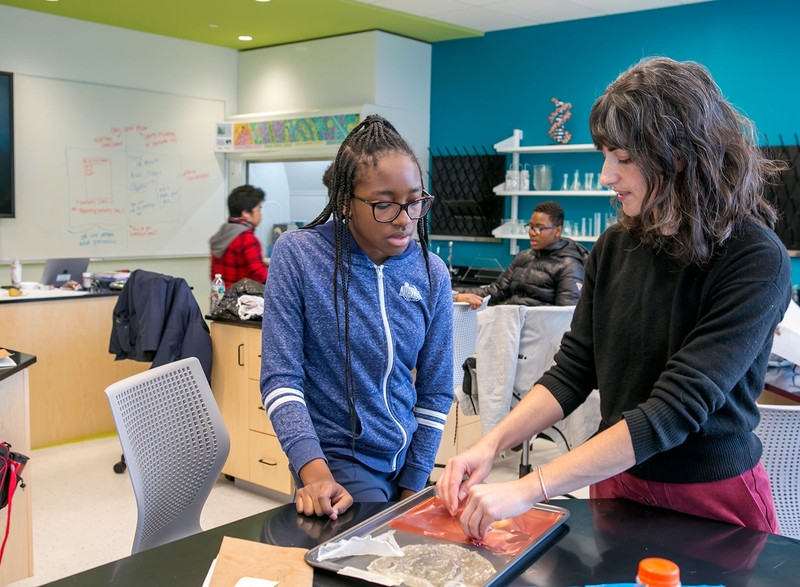 Inspire students to dream big
We're always looking for STEM or STEM-adjacent professionals and entrepreneurs to join our efforts. What's most important is that you're passionate about sharing what you do with Philadelphia students and are interested in mentoring youth. Mentors can engage with students in their space or ours and typically contribute less than one hour per session, up to eight times per year. Our classes usually consist of 14 students and we will help you curate the most engaging mentorship session possible!
We have a volunteer opportunity for you!
Are you passionate about STEM, experimentation and design? Share your passion with young people in Philadelphia by becoming a FirstHand mentor.

Inspire students to dream big by exposing them to various career paths, help shape our future workforce and open doors for the minds of tomorrow.
Mentors engage with middle school and high school students in their offices and labs for about 30 minutes, up to eight times per year. Classes are typically made up of 14 students.
Our mentors are scientists, designers, entrepreneurs and engineers, but we welcome mentors with all types of backgrounds and skillsets.
Collaborate with FirstHand team to co-deliver FirstHand Sprints that focus on skills and topics of the emerging industry while centering the needs of Philadelphia students.

How it works:
STEP 1
Mentors take a short 5-minute survey to express your interest in mentoring.

STEP 2
The mentor brainstorms with the FirstHand team how best to translate their expertise into FirstHand curriculum.

STEP 3
Together, mentors and the FirstHand team will co-create a mentor experience.

step 4
Students will visit the mentor in their lab or office, or the mentor will visit the students in the FirstHand Lab

step 5
Mentors will attend the student showcase and offer feedback.

step 6
Doors will be opened for the minds of tomorrow.
Speaking to a student group is a great opportunity to see how effectively we are communicating our research content to a general audience. The honesty of kids as a sounding board is refreshing.