CSL Research Acceleration Initiative
Fast-track discovery of innovative biotherapies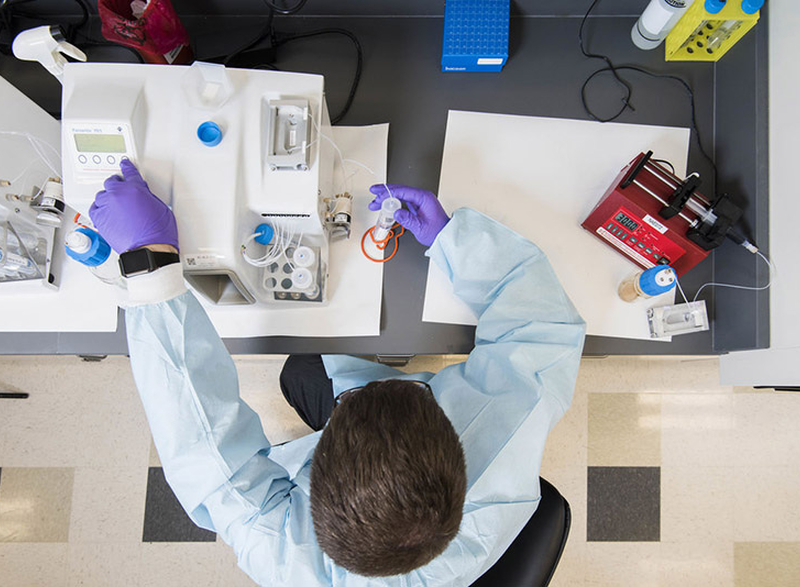 About
CSL's Research Acceleration Initiative aims to fast track discovery of innovative biotherapies through partnerships between CSL and global research organizations. These partnerships provide funding and access to industry experts for scientists working on novel biotherapeutic strategies in CSL's therapeutic areas.

Areas of Interest for Collaboration
The 2023 Research Acceleration Initiative will focus on innovative research projects that address unmet medical needs and are aligned with CSL's Therapeutic Areas and scientific Platforms.
Please download the flyer for specific details of focus areas for 2023.
Immunology
Immune deficiencies
Primary immune deficiency gene therapy and targets
Autoimmune diseases
(e.g. Primary Sjögren's syndrome, systemic sclerosis, inflammatory idiopathic myopathies incl. dermatomyositis, autoimmune blistering diseases)
Therapeutic strategies for autoimmune diseases
• Novel immunomodulatory strategies targeting cytokines, chemokines, modulatory proteins and TNF family members
• B cell depletion / regulation strategies
Alternatives to plasma-derived immunoglobulin / Recombinant IVIg
Hematology
Hemorrhagic and acute ischemic stroke
• Novel biologic targets/therapeutics or strategies to understand pathomechanisms
• Biomarker/Omics approaches for patient stratification and drug discovery
Acute thrombosis (venous and arterial thrombosis)​
Novel therapies/approaches for targeted fibrinolysis/thrombolysis with increased efficacy and safety

Sickle cell disease
Prophylactic therapies to reduce vaso occlusive crises and chronic vasculopathy
Respiratory
Asthma
(severe, uncontrolled)
Chronic obstructive pulmonary disease
(exacerbations)

Non-cystic fibrosis bronchiectasis

Interstitial lung diseases
(progressive fibrosing)

Community acquired pneumonia (CAP)-associated complications
(acute respiratory distress syndrome, sepsis, acute kidney injury)
Cardiovascular & Metabolic
Myocarditis
Dilated cardiomyopathy
Inflammatory etiologies

Severe forms of atherosclerosis
Inflammatory targets/candidates

Rare lipid disorders
(e.g. homozygous familial hypercholesterolemia)
Transplant
Chronic lung allograft dysfunction
Including prevention, antibody mediated rejection, tolerance, immunomodulation, biomarkers, animal models

Hematopoietic stem cell transplant (HSCT)
Treatment and prevention of acute and chronic GvHD, tolerance, immunomodulation, improving efficacy / safety of HSCT

Cardiovascular allograft vasculopathy
Treatment and animal models

Ischemia reperfusion injury
Prevention
Vaccines
mRNA and lipid nanoparticle platform
Innovative research addressing improved delivery, formulation, stabilization (5 C / room temperature), shelf life extension and manufacturing technologies

Influenza virus antigen purity and yield enhancement
Innovative research with potential to impact yield and purity of influenza virus HA antigen produced in MDCK cell culture

Proven adjuvant technology
Partnerships with our proprietary adjuvant MF59®
Cell & Gene Therapy
In vivo kill switch or suicide switch

Modulation of transgene expression in vivo

Novel methods to select gene modified HSCs

Novel therapeutic gene therapy targets aligned with CSL's Therapeutic Areas

Non viral in vivo delivery of RNPs

Alternative mRNA delivery methods
Plasma & Recombinant Technologies
Oral delivery of biologics

Protein purification technologies

Bioprocess improvements

MDCK cell culture yield improvements
Why Collaborate with CSL?
Global capabilities on your doorstep.
Work with one of the world's leading biotech companies.
Funding for successful proposals.
Access to commercial R&D, clinical, intellectual property, marketing and manufacturing expertise.
Accelerate translation of your research to deliver new therapies to patients.
About CSL
CSL is a leading global biotech company that develops and delivers innovative biotherapies to help people living with life-threatening medical conditions live full lives.