Meet the Newest ic@3401 Members
With 67 members, the ic@3401 community is going strong.
We welcomed Proof Positive grad and pitch competition winner, Social Alchemy. The startup combines social sciences and technology to reduce violence by making academic and clinical information culturally responsive ensuring greater engagement, retention and skill building.
ic@3401 also became home to DriveItAway Holdings, Inc. (OTCQB: CLCN), the first mobility platform that enables car dealers to sell more vehicles in a seamless way through eCommerce, with its exclusive "Pay as You Go" app-based subscription. Founded by serial entrepreneur and Proof Positive Founder-in-Residence, John F. Possumato, DriveItAway is the first publicly traded company to be based at ic@3401.
Israeli Friends
Over the course of the last several months we've been working with a cohort of Israeli companies interested in expanding their business to US market. Those Israeli companies visited us in mid-September for a week of introductions, meetings, best-of Philly dining experiences, and of course, Venture Café.
Meet the companies:
Atvisor has developed an AI-based digital health platform that supports assistive technology assessments and the decision-making process.
Droxi's AI tool helps primary care physicians reduce the amount of time spent on non-patient-facing tasks and improve the quality of care by creating a Patient-Specific Storytelling.
Innosphere provides a non-invasive electrical brain-stimulation medical device, AI based for treating ADHD without side effects.
Kai is a VC-backed Mental Health 3.0 venture on a mission to democratize mental health for young people everywhere.
NyX is developing a sleek, attractive headband that uses sophisticated algorithms and continuous-learning artificial intelligence to personalize a program that trains people's brains for sleep.
Paragate Medical is addressing a solution for chronic fluid-overload heart and kidney failure patients, who are considered the "frequent flyers" of the hospitals.
Profility combines EMR summary techniques, sophisticated AI and big data access to help set the right treatment for the right cost, in the best matched facility.
$$$
Four companies were selected for the first cohort of Drexel and the Science Center's Raynier Seed Fund for Underrepresented Entrepreneurs. The inaugural cohort includes:
Vital Start Health, founded by Kirthika Parmeswaran, is a developer of a maternal mental health platform designed for equitable, personalized, clinically guided care for mothers across the maternity continuum.
Tribaja, founded by Shannon Morales, is a digital talent marketplace and community for underrepresented tech and startup enthusiasts.
Knowledge to Own, founded by Alberto Estrello, is an online marketplace connecting homebuyers and the real estate community with homeownership tools to empower access and savings.
TDR Ideas, founded by Kaleb Banks, helps service organizations improve efficiency, effectiveness and sustainability through evaluation and planning tools.
Vital Start Health founder Kirthika Parmeswaran

Tribaja founder Shannon Morales
Vital Start Health founder at Venture Café

Veenu Aishwarya of AUM Life Tech
Product Launch
Pippy Sips' first product, Maia, a 3 in 1 system for storing, cooling, and monitoring breast milk, launched on September 22nd at Venture Café and is now on the market! Read more about Pippy Sips and founder, Amberlee Venti in this Technical.ly article.

Recognition + Awards
The World Economic Forum highlighted UE LifeSciences' iBreastExam in a video about cancer screening.
Coviu CEO Silvia Pfeiffer was recognized in the Australian Business Review's 2022 List of Top 100 Innovators.
Viora Health was named a winner of J&J Innovation's Health Equity Innovation Challenge.
SusMaX was selected for The Heritage Group Accelerator, a hard tech accelerator program at THG's innovation hub in Indianapolis. The selected companies are focused on building a sustainable future through innovation in specialty chemicals, advanced materials, infrastructure and construction, environmental solutions, and industrial systems.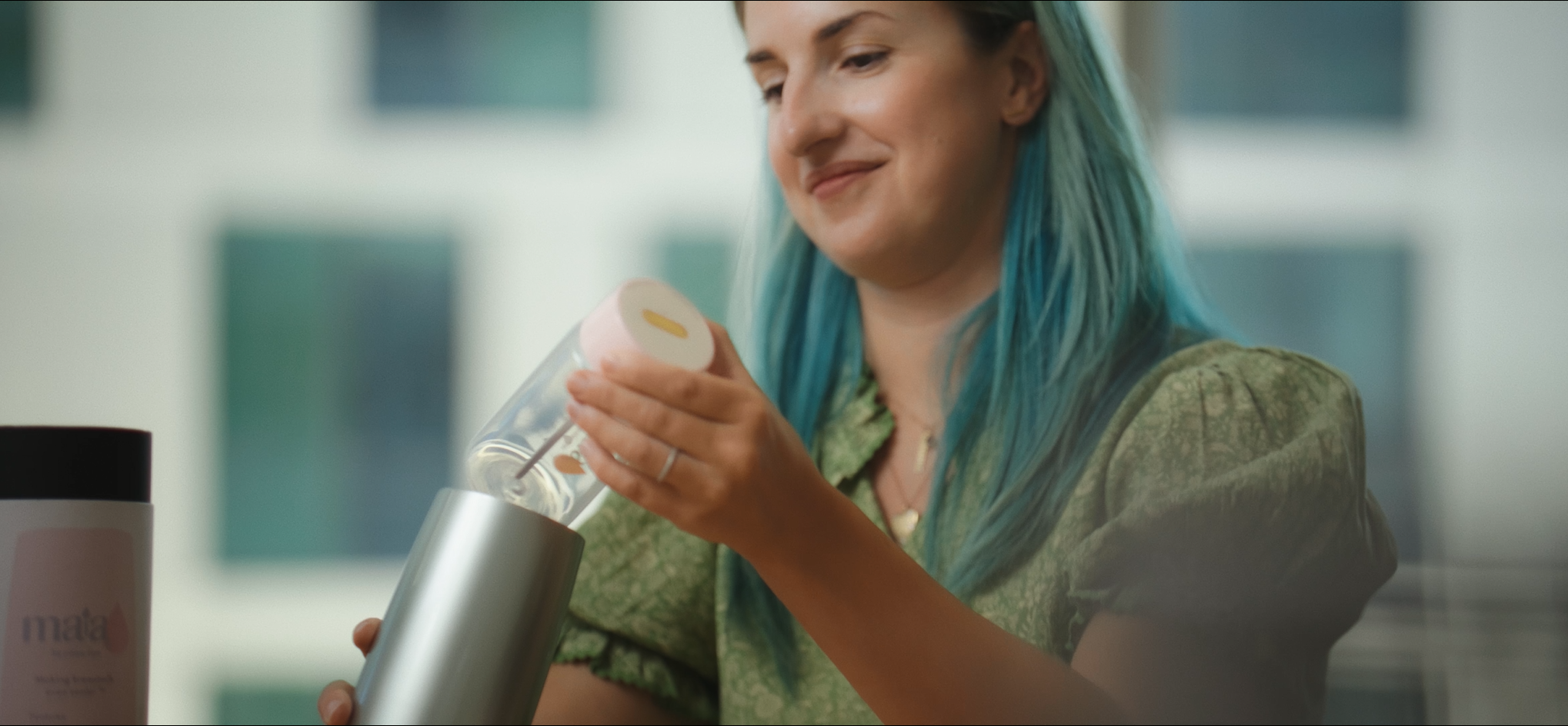 Celeb Endorsement
Launch Lane grad, Kiira Heath was highlighted by investor Serena Williams on Twitter: