Art
Art at uCity Square inspires discovery and promotes possibility.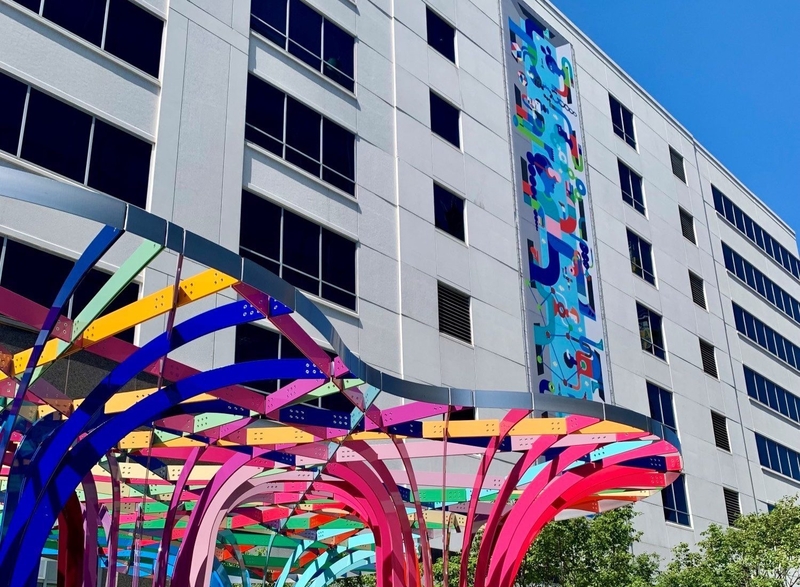 Public Art at uCity Square
In addition to our affinity for Science, Technology, Engineering and Math, there's plenty of art throughout uCity Square. It all began back in 1975, when the Science Center held a public forum on Art and Science. Since then, the Science Center has opened an art gallery, installed a number of permanent public art pieces and established rotating exhibits throughout uCity Square.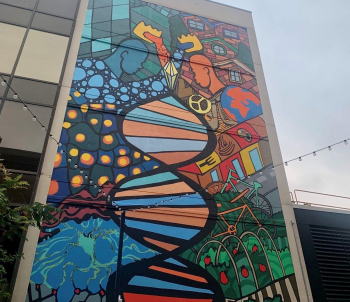 Innovation Plaza
In Majesty, the mural at 3624 Market Street highlights a connection between the Science Center, the Penn campus, and the surrounding community and builds on the themes of Innovation Plaza.
Interconnection by Melinda Beck, 2021
Pivot Park
A trompe l'oeil atrium breaks through the side of the building revealing colorful figures that seemingly flow out of the windows and interconnect, depicting them collaborating, learning, and conducting experiments.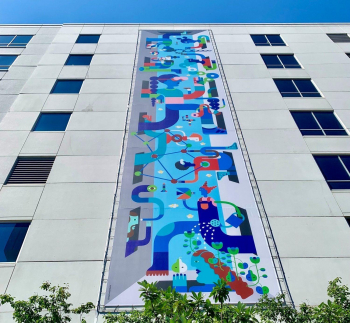 Spectral Grove, 2019
Pivot Park
Spectral Grove marks the park's entrance by inviting visitors to walk through a grove of archways that have been woven together from intersecting bands of powder-coated aluminum in 28 colors. Each of Spectral Grove's six columns is made from a gradient of two similar colors, so that their palettes appear to shift as visitors move around and through them. While these gradients give each column a unique identity, their fins intersect in the arches above, producing a cohesive woven canopy of open coffers rendered in different shapes and myriad color combinations.
3601 Market Street
Light Matrix at 3601 Market Street activates the building's marquee canopy with an array of 3600 white LEDs. Sequenced with the artist's custom software, this installation brings art to the street level, engages the public and creates a strong identity for the property. Villareal's art fuses light, art and technology in a way that is uniquely appropriate for its context within uCity Square.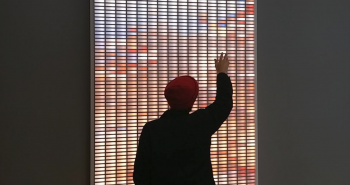 3737 Market Street Lobby
Blueprint features a series of two aluminum light sculptures that reference analogies between DNA and computer code. The series embraces the relationship and parallels between art and science, creating compositions through the mathematical principles of logic that underpin life. As the work slowly changes over time, patterns fluctuate between varying degrees of complexity. Blueprint uses the basic concepts of evolution to create an ever-transitioning image. With cells literally transferring their genes to their adjoining others, color flows like paint across the canvas. Read more
Generative Luminance by Soo Sunny Park, 2014
3737 Market Street Atrium

Generative Luminance is composed of over 17,000 squares of dichroic glass attached, by hand, to stainless steel mesh. The glass and mesh have hard edges but still come together to make a form that is at once cloudlike, biomorphic and crystalline. Close up, viewers can see the components of the structure, while from far away they can only see the large-scale form, and wonder, like scientists, at how it depends on some underlying structure.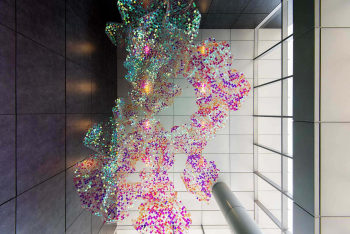 Join Our Ecosystem
Knowledge is vital. Networks are essential. We are the ecosystem builders. Learn more about engaging with the Science Center as an advisor, mentor or by participating in our events as a speaker, attendee or volunteer.
Join Our Ecosystem