Nucleus Awards
2022 Cultivator Award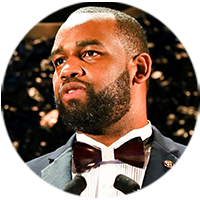 Jimmy White IV

Director of Engineering Four Seasons Philadelphia; Professional Speaker and Youth/Veteran Advocate
Jimmy White IV is a South Philadelphia native who served in the US Navy from 2000-2006 as a nuclear electrician on board the fast attack submarine, the USS Montpelier. In 2003, his submarine was part of "Shock and Awe" supporting ground troops by firing 20 tomahawk missiles as part of Operation Iraqi Freedom. Through his military career, he earned three Navy Achievement Medals for outstanding service. He was named Junior Sailor of the Year for his command and achieved the rank of 1st class petty officer.

He is currently the Director of Engineering for Four Seasons Philadelphia, a passionate Professional Speaker through his company (Jimmy White Speaks LLC), a GW Bush Center Veteran Leadership Program Scholar, an alumni of the Leadership Philadelphia program, a national award winning Youth/Veteran Advocate with the Travis Manion Foundation, a TEDx Speaker, the Founder-In-Residence for the Venture Café Philadelphia Proof Positive Entrepreneurship Cohort, a Board Member of the Community Partnership School, a member of the Military Veterans in Journalism Speaker Bureau and Mentor/Inspirational Speaker for the Philadelphia Union Foundation IAM Project. He is a minister at the Prophetic Church of Christ in South Philadelphia and a loving husband to his wife (Theresa) and father of three amazing boys (Jim-Jim, Jo-Jo and Jack-Jack).
Nucleus Cultivator Award
Recognizes outstanding contributions in creating a diverse and inclusive talent pipeline in the STEM sectors. The awardee has demonstrated leadership and commitment in building a sustainable workforce that represents the community at large.
2022 award sponsors

The Nucleus Awards
It's that time of the year again! We'll be networking and celebrating leaders in our region who convene the community, commercialize promising technology and cultivate the future of STEM, during our biggest night of the year.
Find out more