Nucleus Awards
2022 Capital Award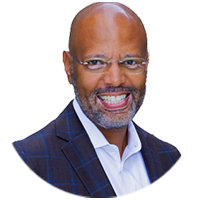 James Burnett

Executive Director, VestedIn
Mr. Burnett is the Executive Director of VestedIn (VestedIn) a Community Development Financial Institution (CDFI). He has worked in the financial services industry for over 34 years, beginning his career with Fidelity Bank 1988. In 1999, Mr. Burnett pivoted to community economic development ("CED") as Executive Director of the VestedIn. Because of his CED work, Mr. Burnett became an adjunct professor position at Thomas Jefferson University in the School of Sustainable Design. In 2020 Mr. Burnett joined three partners with the creation of Black Squirrel, a company focused on identifying the challenges businesses have to grow and helping them identify the appropriate resource for their development. In addition to his professional focus, Mr. Burnett has served diligently on various community and professional boards and is committed to the promotion of financial education and access to capital.
As Executive Director for VestedIn, a twenty-four year old CDFI, located in the West Philadelphia, Mr. Burnett is responsible for managing and growing VestedIn's impact on small businesses in Greater Philadelphia. VestedIn's business services include commercial lending and financial education.
Mr. Burnett's accomplishments at VestedIn include:
The development of the ParkWest Town Center a 30 acre, 341,000 square foot, $55,000,000 retail center in West Philadelphia
The creation of the first non-profit mortgage brokerage company in Pennsylvania
Supporting the Creation of over 1,800 jobs through loans and other investments
The development of the WesGold Fellows, a paid summer internship for high school students focused on entrepreneurship, investing and real estate development
The development of the first youth Individual Development Account program in the state of Pennsylvania
Partnering with PA CDFI Network to fund $250 million in small business grants during Covid.
Finally, Mr. Burnett is a speaker on various community development and lending topics and was a host of "There's Money Out There" radio show. Additionally, he is a member of various boards including:
PA CDFI Network
The Chamber of Commerce for Greater Philadelphia
Philadelphia Parks Alliance
STEAMie Work Space
Greater Philadelphia Film Office
Nucleus Capital Award
This award recognizes an individual or organization that has intentionally sourced and invested in minority-owned startups or founders with the purpose of mobilizing capital to unlock innovation. The 2022 awardee is investing in diverse minds to make transformative change in the STEM ecosystem.

2022 sponsor

The Nucleus Awards
It's that time of the year again! We'll be networking and celebrating leaders in our region who convene the community, commercialize promising technology and cultivate the future of STEM, during our biggest night of the year.
Find out more