The Nucleus Capital Award is sponsored by NewSpring
You've been with VestedIn (fka West Philadelphia Financial Services Institution) for over two decades. How has the organization evolved over that time?
When we originally started there was a big focus on creating a community development financial institution (CDFI) which was limited to two census tracts. From a geographic perspective we were working in a much smaller area. Today we're providing loans across seven counties.
During our first couple of years, we had the opportunity to develop ParkWest Town Center. Because of the scale of that project, it really took a lot of our resources and limited our capacity to do loans. We knew that when we got the shopping center up and running, it would create a huge impact in those two census tracts and be a catalyst for development in the entire area.
When the project was completed, we wanted to get back into financing, however the combination of the ParkWest Town Center ground lease on our balance sheet with a limited number of loans granted, we were considered a developer rather than a CDFI. We were able to get creative in the way we used our equity to create income, invest in small businesses and give the organization some relief in terms of its dependency on grants and outside capital.
We were recertified as a CDFI in 2016, became an SBA microlender in 2017, and in 2020 with the PA CDFI network we were able to deliver over $250 million worth of grants to small businesses across Pennsylvania and are focused on driving capital and resources to small businesses.
Capital is critical to the success of small business owners, but it's not everything. Can you talk about the non-monetary support that is so vital to uplifting communities?
One of the biggest things we see in the financial support industry is small businesses not understanding the value of comprehending their own financial information. That information is the key to them getting more capital. If they're not able to articulate it to financial professionals, they're not going to get the capital that they're requesting.
The pandemic also exacerbated the weaknesses of small businesses when it comes the basic things that businesses should have. One example is that many small businesses use a phone instead of a computer. If a business is going to scale however and add, for example, a point of sales systems, it requires you to have a computer.
Is there a story/success of someone supported by VestedIn that stands out to you?
SUPRA-EMSCO is the example that always comes to mind. When we first started working with the company, they were just starting out and making about $500K in revenue. VestedIn lent them a $100K loan, the maximum amount we gave.
From there, they received support from three other CDFIs over the course of the company's growth, with each loan being a bit larger than the last. When they paid our loan back, SUPRA-EMSCO went to the Enterprise Center which could offer more money. After that, they went to the Reinvestment Fund and received an even larger loan, followed by PIDC who was able to give them both land and capital.
SUPRA-EMSCO is a $60M company today.
Despite this, to get the capital they needed as a Black-owned company, they had to rely on CDFIs rather than being able to walk into a bank for a line of credit. It's unsettling that a company who's done everything right still hasn't been able to access the services of the upper echelon of the financial services industry.
Jim Burnett speaking at a recent Venture Café Thursday Gathering featuring 41 WesGold Fellows
What are you most proud of in your career?
Our WesGold Fellows program. I love making loans and talking to small business owners, but what gets me every year is watching a group of young people over the course of 8 weeks transition from a lack of confidence and not believing they have value, to feeling confident about sharing their values without having to defer to anyone. The WesGold Fellows program is helping to create that confidence and give young people exposure to opportunities. That's what reenergizes me.
What headline do you want to see about Philadelphia in 10 years?
'Philadelphia has lowest poverty rate of any big city in the US'
Ideally, I'd like to see it somewhere at 10%. It would be challenging but I think it's possible. We have enough intelligent people in Philadelphia that can design opportunities that creates income and transitions into wealth.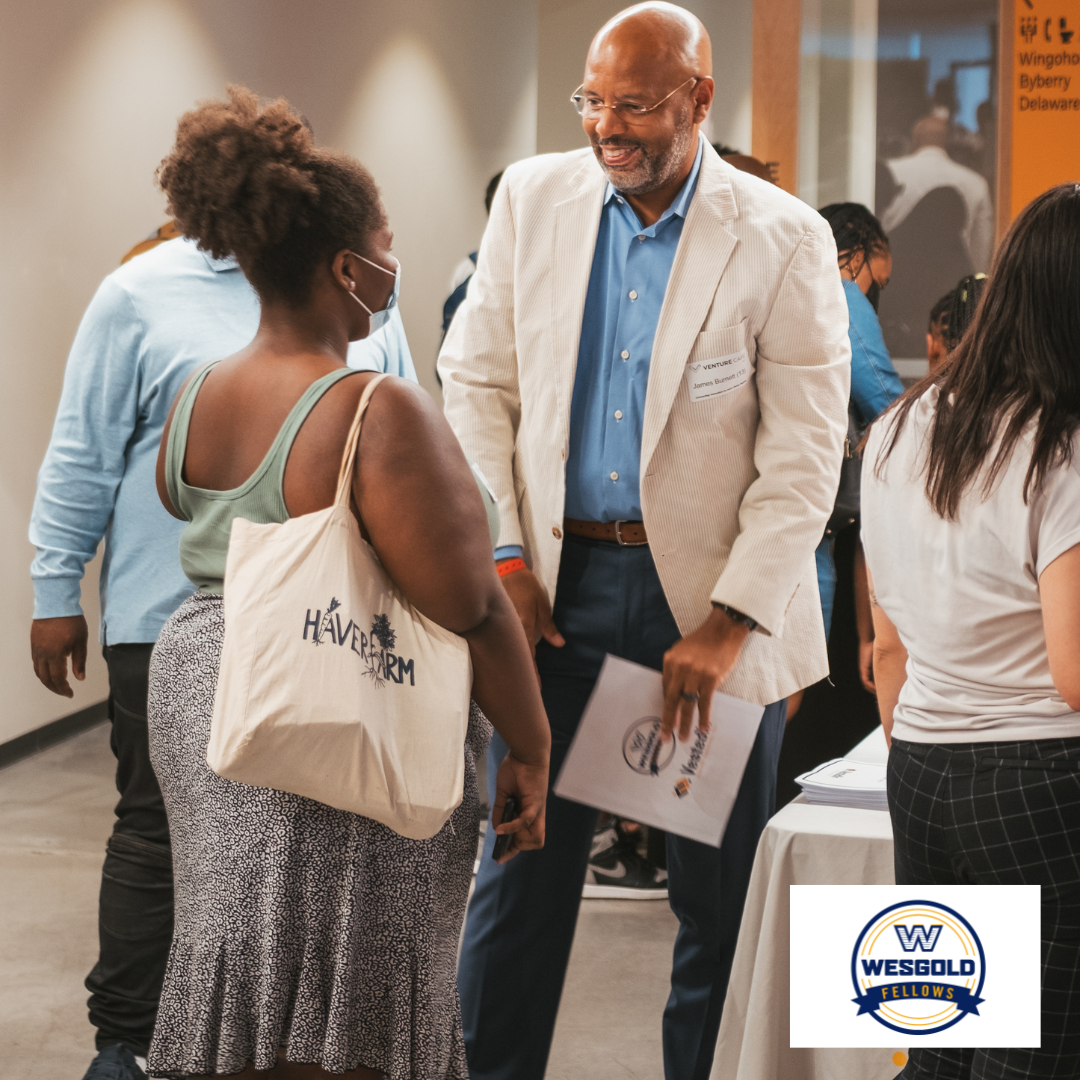 What is your superpower?
Listening. We have people coming to VestedIn because they need support. If I brush off their concerns because I know more about finance than they do, then I'm not doing my job and I can't help them. If I don't listen to their challenges and try to see it from their perspective, we're not solving problems.
The same thing goes for the young people we work with. Years ago I was a basketball coach to 6th and 7th graders in Chicago. I had a difficult time getting through to one of the students who seemed disinterested in basketball. I took it upon myself to figure out what was important to him and ultimately learned that it wasn't that he was disinterested in the game. He didn't want to play basketball – he wanted to own the team. When we launched WesGold Fellows I thought about that a lot in that I want our Fellows to want to own the team – not just play the game.
As a kid, what did you want to be?
My father was an alternate on the 1968 Olympics team, he ran for the Philadelphia Pioneer club, and my uncle ran the track club. I came from a sports family and wanted to be an athlete.
But beyond that, when I was living in Chicago, I could walk two blocks and see severe poverty and everyone was Black and go two blocks in the other direction and see significant wealth without a Black person in sight, I decided that I wanted to get into finance and understand how to make decision with money and drive capital in spaces where it's not.
---
Join us on September 28th as we honor Jim Burnett with the Nucleus Capital Award.
2022 cultivate award sponsor