Venture Café
Black and Brown Entrepreneurship Expo
Thursday, Jun 23, 2022 | 3:30 PM-5:00 PM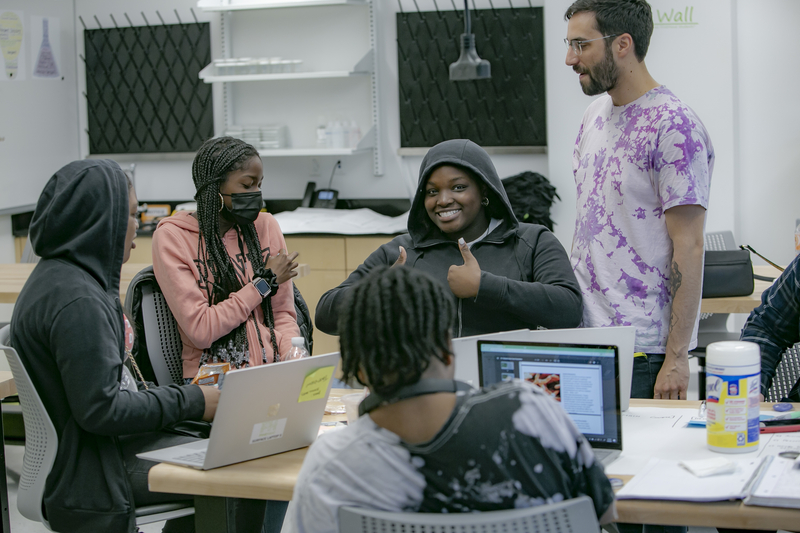 Tomorrow's entrepreneurs meet today's local business owners! Student teams participating in the Science Center's FirstHand program, who received mentorship, funding, and support to develop their own business plans, will present their businesses at demo tables alongside other local business owners to promote our local Black and Brown-owned businesses.
FirstHand Student tables include:
Erika and Mariam: Gentle Glow Co. @_gentle_glow
After testing bath bombs and soaps for months the ladies have landed on candles. Their candle company is known as Gentle Glow Co. and they make sweet scented soy wax candles. This partner duo is committed to sustainability and good vibes. They have received guidance from an amazing mentor Chartel Findlater, the founder of Gold & Water Co. FirstHand students since 2018 Mitchell Elementary School Polymer Play course. current school: Motivation High.
Kennysha Stanley : Game Changer Apparel (GC) @_game.changerz
Mz. Game Changer herself spent the year focusing on rebranding her company Game Changer Apparel. Kennysha has spent the year diving into graphics, hand drawing logos, and experimenting with various colors for her design. Her website on Wix will be published soon. Kennysha and Tyrese have also spent the year learning multiple methods for creating designs like vinyl heat press, direct to garment and screen printing with mentors Maya and Wendy of FirstHand. FirstHand student since 2019 Logo Redesign Challenge cohort with Paul Robeson High School.
Tyrese Prince: Millennial Trendsetters (MT) @mtrendsetters_hof
As a trendsetter himself, Tyrese created an excited logo brand this year with help from our Peer Mentor Morgan Eason. The three Tyrese, Morgan, and Kennysha make a fun FirstHand trio by helping younger students and supporting one another's brands. You can find them at Paul Robeson High School sporting MT and GC swag. The trio will be transitioning to Cheyney University in Pennsylvania next year!
Danielle Porter: Falling Star
Danielle is an 11th grader at School of the Future who has been a FirstHand participant since 2018. Through her business Falling Star she designs creative resin art charms such as keychains and pins. The material that she uses is ecofriendly, and all of the charms are unique and handmade.

Anthonette Akinyemi: Ibis African Foods @ibisafricanfoods
"I joined the Firsthand program in 6th grade as a new student at Alaine Locke middle school, a few months after I relocated from Nigeria to the U.S. It was my first exposure to the science field. It was exciting to learn how I could transform an idea I was passionate about into a business venture. The Firsthand program taught me how to bring my visions to life. I started Ibis African Foods in May of 2020. I started my business selling ChinChin, a popular Nigerian snack. My great grandmother had a little open area at the front of her house where she sold chinchin and other nigerian snacks in the 40's. It was just a fun idea at the time that quickly transitioned into a business. Food has a very unique way of bringing people together so to me I like to see my business as a way to bring Nigerians in the Diaspora together and give them a sense of home." -- Anthonette Akinyemi, 11th grader
All students were mentored by the Philly based branding agency Cohere.
Alongside FirstHand students, get the chance to meet: