"I took a screen shot, texted him and said, 'Hey man we came to you with one customer and now we've got more than a dozen. I feel good about it and you should feel good about it.'"
That was Raheem Ghouse, Vice President of Sales at software startup, SETVI, and his message was to Eamon Gallagher, Director of Strategic Innovation and Startup Acceleration here at the Science Center.
When SETVI first joined ic@3401 in 2018, the then 5-year-old, fledgling company's client portfolio consisted of one account and they were barely bringing in $100,000 in revenue. Things are considerably different these days for CEO and Co-Founder Josh David, CTO Srinivasa Sridharan, Product Director Justin Uplinger and Ghouse. Not only has SETVI's client base expanded significantly but they are now bringing in over $1,000,000 in software sales. Even more impressive, SETVI's growth occurred predominantly in 2020, during a time of limited travel, limited gatherings and let's face it…pretty much everything else.
Ghouse initially contacted Gallagher, a connection he had made years earlier from attending tech events in Philly, when it became clear to the team of four that their Center City lease was not only costly but also isolating. "We had made a bad business decision and we were trying to back-peddle," he recalls. "We were also lonely." He reflects on their office adjacent to a legal practice, and their yearning for more relatable neighbors; ones with whom they could celebrate on good days, commiserate on the bad ones, and discuss things like churn and VCs.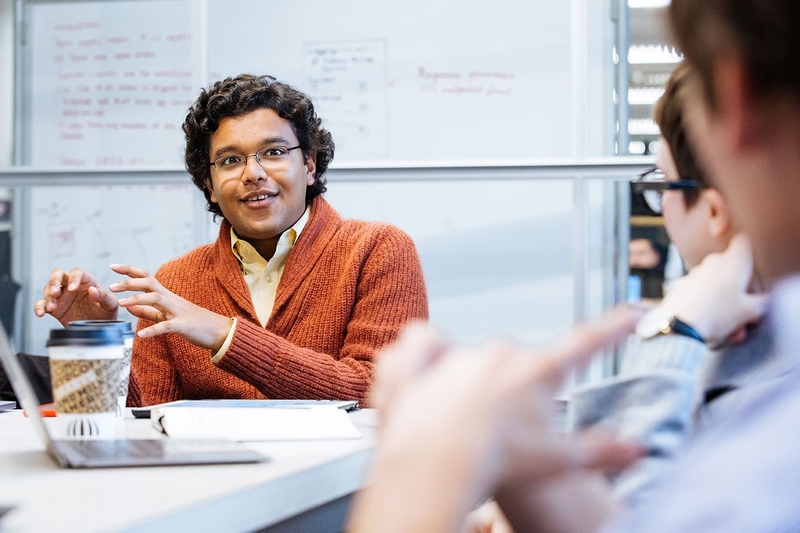 Ghouse and the team at SETVI knew they needed more than space. They needed a runway and momentum.
After a sit-down meeting with Gallagher, they were reassured. Although they were already familiar with ic@3401, its reputation and the accessibility by public transportation from both within Philadelphia and the suburbs, they marveled at the presence of then-resident Social Ladder and other growing startups.
And, of course, the price was right for a young company with limited resources. "The price was just undeniably good, obviously it's not market rate by any stretch. We just love what Eamon and Kristin Hart and the team quoted us for our monthly rent."
After getting acquainted with their table and learning their way around the space, they quickly recognized the benefits that came with proximity to all the amenities of being in a major city, access to interns through academic institutions like Drexel, Swarthmore and Haverford, a 24/7-access building, and above all the free flow of like-minded entrepreneurs with whom to sharpen their skills. "I love how many people are in and out of the space. Eamon will flag me down and have me give them my elevator pitch and I'll find out afterwards who they were."
And now the clients tell me, 'The moment I get vaccinated, Philly is in my top three cities to visit. I have to visit your office. I have to see all this innovation and I have to breathe it in.'
Despite all this, the shift wasn't without its occasional moments of apprehension. "The first time I had a big meeting, somebody flew in from Chicago to see me and I was nervous about what they would think if I brought them into a conference room in a co-working space. They have fancy homes and boats and play golf. If they see 50 people walking around when they're used to having their own space, what will they think?"
Ghouse was thrilled to be proven wrong. Not only did their guests "love the vibe," but they were equally as in awe of the other residents as SETVI had once been. "They saw a bitcoin company, and a company that makes cereal for babies with allergies, and right away they wanted those products for their own families." Ghouse and team immediately felt "cool" by association and they never worried about hosting big clients at ic@3401 ever again.
"And now the clients tell me, 'The moment I get vaccinated, Philly is in my top three cities to visit. I have to visit your office. I have to see all this innovation and I have to breathe it in."
That was another lesson Ghouse would learn: clients don't just buy a company's product, they buy their time and their identity. "After coming to ic@3401, I learned that they are buying 'us' for 'us.' So, they have to love the package that we come in. "
But perhaps the biggest support SETVI received from ic@3401 was simply the gift of freeing up mental space.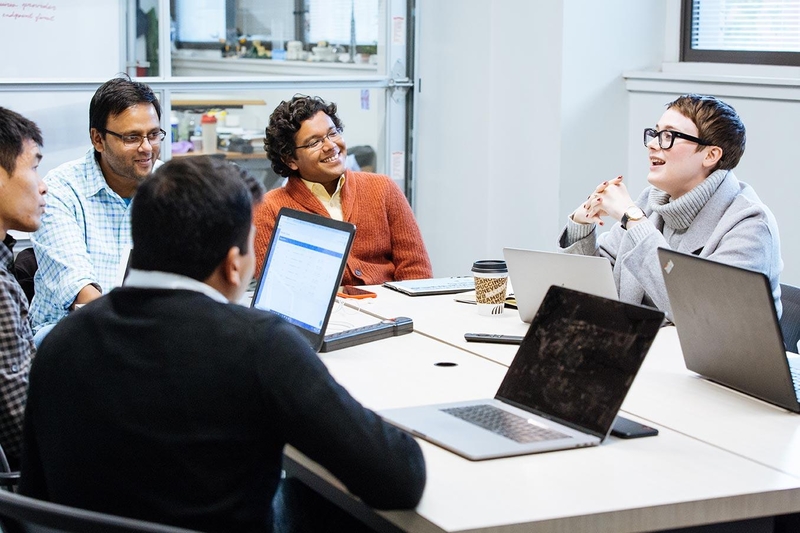 "Because we weren't rushing month-to-month to make payments, we had the flexibility to just think," he explains. That freedom and thoughtfulness, sometimes for weeks and months at a time where it felt like nothing was happening, allowed them to reflect on where they really wanted to go as a business, finetuning aspects of their approach like product-market fit and target markets.
"As with any success story, people want it to happen overnight. But we grew so much last year (in 2020) while sitting at home, because we had done two years of leg work before that," he argues.
That peace of mind, along with hard work ("I've brought sleeping bags and slept in the office") would soon pay off in the form of a chance encounter that put things in motion.
"I went to FEASTIVAL, and was asked by someone what I did. I was able to tell them really smoothly, in a' James Bond'-type of moment, 'We service large distributive sales teams in the commodity industries that are trying to catch up to the digital transformation of today. And we distill a lot of complex information into a single pipe that helps front line salespeople really communicate with their clients and answer questions and drive business.'"
According to Ghouse that 'James Bond' moment happened because of many months of clarifying SETVI's buyer persona and messaging while at ic@3401.
Eventually, that "someone," the son of the owner of the Penn and Jersey Paper co. (PJP), a 55-year-old family-owned business that has adapted their offerings over the years as margins for paper sales began to drop, became SETVI's first client in the distribution industry of commodities, and their greatest advocate.
"It was the most perfect crystallization of our product-market fit. We sell into an industry that's very old and traditional, with many legacy businesses. My oldest client is a 113-year-old company. And it's an insular industry that doesn't just trust anyone that walks through the door." After a year of association with PJP and the recognition that came with it, SETVI was able to leverage that business relationship to acquire additional clients. And the rest, as they say, is history.
When we came to ic@3401, we thought, 'we have to do better.' Eamon gave us a shot. Gave us flexibility.
"When we came to ic@3401, we thought, 'we have to do better.' Eamon gave us a shot. Gave us flexibility. We figured the co-working space wouldn't be permanent. There was a consensus on day one, that once we hit a million dollars in software sales we would move back into our own space. Now we are at a million, we can't hire fast enough, and nobody wants to go anywhere! That idea is completely gone. In fact, this blog post will probably serve as a reminder to our team that we were at one point thinking of leaving this space," he jokes.
But whether at a charity event or in a business incubator, finding the answers when surrounded by others is not exactly new to Ghouse: "I have always believed that if there's a problem, just go out into the world and you will find a solution. Talk to whoever is next you, maybe they can help or give you a tip or some advice."
And sometimes, if you're at ic@3401, all it takes is a short walk over to another table.