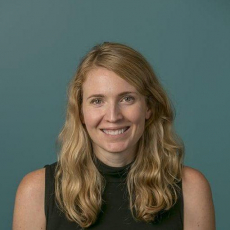 Kristen Fitch

Senior Director of Marketing
Kristen joined the Science Center in 2005. As Senior Director of Marketing, Kristen is responsible for building and executing a comprehensive marketing and communications strategy for the Science Center including, brand management, media relations, content marketing, social media, partner relationships, and sponsor relations.
Over her tenure at the Science Center, Kristen has held a variety of roles at the intersection of community engagement, program development, fundraising and communications. She has been involved with the planning, branding and implementation of a number of key initiatives that advance the Science Center's pursuit of innovation-based economic development including the launch of Quorum, the re-branding of STEM Initiatives to FirstHand, and the campus re-brand to uCity Square.
Previously, Kristen was responsible for overseeing the University City Keystone Innovation Zone (UC KIZ). Under her leadership, the UC KIZ grew in geography, industry focus and its overall reach to the entrepreneurial community yielding over $15M in tax credits to over 100 startups in Philadelphia.
Kristen has a Bachelor's degree from Penn State University and a Marketing Certificate from the Executive Education Program at The Wharton School. She received the 2019 Rad Award for Connector of the Year and currently serves on the Board of The Resource Exchange.
When Kristen isn't working, you can find her listening to too many podcasts, exploring the region's outdoor public spaces, longing for the day the Buffalo Bills return to the Super Bowl (while simultaneously rooting for the Eagles), and traveling as much as possible.
email hidden; JavaScript is required