Nucleus Awards
2023 Cultivator Award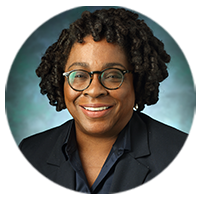 Sheila D. Ireland
President and CEO, Philadelphia OIC

Sheila Ireland has over 25 years of experience leading human resources, training and workforce development in the non-profit, healthcare, consulting, government, and manufacturing fields. Sheila is known for developing programs that improve organizational performance and achieve bottom-line results.
In 2022 Sheila took the helm as the President and CEO of Philadelphia OIC and its for profit affiliate Progressive Ventures, Inc. Since 1964 Philadelphia OIC has the led the fight for social justice and economic empowerment utilizing workforce development as it's operational strategy to level the playing field for Philadelphia's most vulnerable citizens.
Previously, Sheila served as the Deputy Secretary, Workforce Development, Department of Labor and Industry at Commonwealth of Pennsylvania where she oversaw Pennsylvania's public workforce development system. Her purview included oversight of a staff of 600+ employees and management of a $270M+ annual budget that was utilized to grow Pennsylvania's workforce and increase worker's access to well-paying jobs. In her previous role as Executive Director of Workforce Development for the City of Philadelphia, Sheila managed Philadelphia's first citywide workforce strategy, "Fueling Philadelphia's Talent Engine." In this position, she coordinated strategy and communication between local government, education, and training programs, along with employers and service providers to create opportunities for vulnerable populations.

Ms. Ireland was also the founding director of the University City District's West Philadelphia Skills Initiative and launched UCD's first social venture, Green City Works.Ms. Ireland has received many awards for her work in nonprofits and workforce development including must recently one of the 100 most influential labor leaders and one of the most influential black leaders in Pennsylvania. Sheila has earned an A.A. S. degree with Honors in Finance from Community College of Philadelphia, a B.B.A. in Human Resources from Temple University and a M.S. in Human Capital Development from La Salle University.
Present Affiliations: Secretary, Board of Trustees; Chair, Workforce Development Sub-Committee, Community College of Philadelphia Member, Board of Trustees, Peirce College Northeast Region Director, Association of Community College Trustees Member, Forum of Executive Women Member, CHIEF
Nucleus Cultivator Award
Recognizes outstanding contributions in creating a diverse and inclusive talent pipeline in the STEM sectors. The awardee has demonstrated leadership and commitment in building a sustainable workforce that represents the community at large.

2023 cultivator Award Sponsors

The Nucleus Awards
It's that time of the year again! We'll be networking and celebrating leaders in our region who convene the community, commercialize promising technology and cultivate the future of STEM, during our biggest night of the year.
Find out more