Nucleus Awards
2023 Capital Award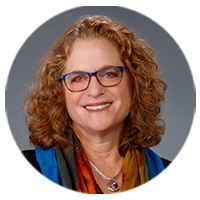 Margaret Berger Bradley
Vice President of Strategic Initiatives, Ben Franklin Technology Partners of Southeastern PA
Margaret Berger Bradley is the VP of Strategic Initiatives. She joined Ben Franklin to lead the development and implementation of strategies and projects focused on creating partnerships that expand Ben Franklin's access to capital and further the overall mission, with a particular focus on emerging impact investment strategies.
She has spent more than 25 years focusing on community and economic development, building organizational capacity and managing philanthropic investments, and has had a particular focus on communications, strategic planning and implementation and organizational systems and growth. As Executive Director of the Goldman Sachs 10,000 Small Businesses Initiative – Greater Philadelphia, she worked with partners across the region and a top-notch team at the Community College of Philadelphia to provide small business owners poised for growth with an experience many have called 'transformational.' She was until 2012 Chief Operating Officer at TRF, a national leader in neighborhood revitalization, which has invested over $1.5 billion in homes, schools, supermarkets, and other community resources, in pursuit of its mission of creating opportunities for low-wealth people and places. Prior to TRF, Ms. Bradley was a member of The Conservation Company (now TCC Group), where she provided management consulting and organizational development and planning services to corporate and private grantmakers and nonprofit organizations across the United States. Her six years at the U.S. Environmental Protection Agency included developing enforcement training for implementation in Eastern and Central Europe, managing a major recruitment campaign and consulting on organizational changes. Ms. Bradley holds an M.B.A. from Yale University and a B.A. from the University of Virginia.
Nucleus Capital Award
This award recognizes an individual or organization that has intentionally sourced and invested in minority-owned startups or founders with the purpose of mobilizing capital to unlock innovation. The 2022 awardee is investing in diverse minds to make transformative change in the STEM ecosystem.

2023 award sponsor

The Nucleus Awards
It's that time of the year again! We'll be networking and celebrating leaders in our region who convene the community, commercialize promising technology and cultivate the future of STEM, during our biggest night of the year.
Find out more