Nucleus Awards
2022 Convener Award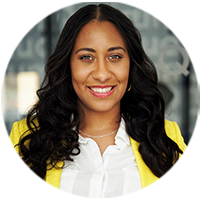 Shannon Morales

Founder and CEO, Tribaja
Shannon Morales is a proud Afro Latina, mother of three daughters, and social entrepreneur. She started her first company, Tribaja, after experiencing bias in the workplace and set out to find a better way to connect tech talent with intentional brands. Tribaja has grown to be a 7k member community with over 150 partnerships geared towards building on-ramps to tech careers for undersupported professionals.
By combining "tribe" and trabaja, the Spanish word for "work," Tribaja is a name that reflects the business' shift into a "community" of people with an interest in tech & startup careers, including an active Slack group. Shannon realized that other recruiting platforms are built exclusively upon acquiring clients. Instead, she focused on Tribaja's ability to develop & upskill the community before all else.
Shannon has successfully scaled Tribaja to a global tech talent network that propels the growth of companies such as Lyft, Microsoft, Comcast, and many more. Her most notable accomplishments to date include being named Hispanic Business of the Year in Philadelphia, winning the CBK pitch competition, being named Al Dias Women of Merit "Emerging Leader", making Forbes Next 1000 small businesses list, and expanding her business operations to Latin America.
Nucleus Convener Award
Recognizes an individual or organization that has generated new ideas or solutions through collaboration, placemaking or unique introductions. The awardee has removed barriers to connect assets, resources and strengths of diverse people and organizations to advance civic interests and improve lives.

2022 award sponsor

The Nucleus Awards
It's that time of the year again! We'll be networking and celebrating leaders in our region who convene the community, commercialize promising technology and cultivate the future of STEM, during our biggest night of the year.
Find out more