Nucleus Awards
2020 Commercialization Award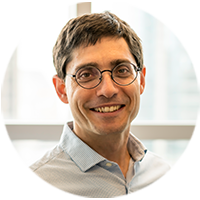 Benjamin Doranz, Ph.D., MBA, President and CEO of Integral Molecular
Ben Doranz is President and CEO of Integral Molecular. Founded in 2001 at the Science Center and current uCity Square resident, Integral Molecular is a research-driven biotechnology company and industry leader in membrane protein solutions. Since its inception, Integral Molecular has repeatedly pivoted their research to combat emerging virus', including Zika, Ebola Chikungunya, and most recently COVID-19, with significant support from the National Institute of Health.

Nucleus Commercialization Award
Recognizes outstanding contributions to the commercialization of innovative science and technology. The awardee is a catalyst in the acceleration of technology transfer. By identifying and developing new and creative ways to transition discoveries to the marketplace, the awardee has a tangible impact on quality of life, economic development, or the welfare of society.
2020 award sponsor: