Special Programs
Launch Lane Showcase
Thursday, Dec 09, 2021 | 5:00 PM-6:00 PM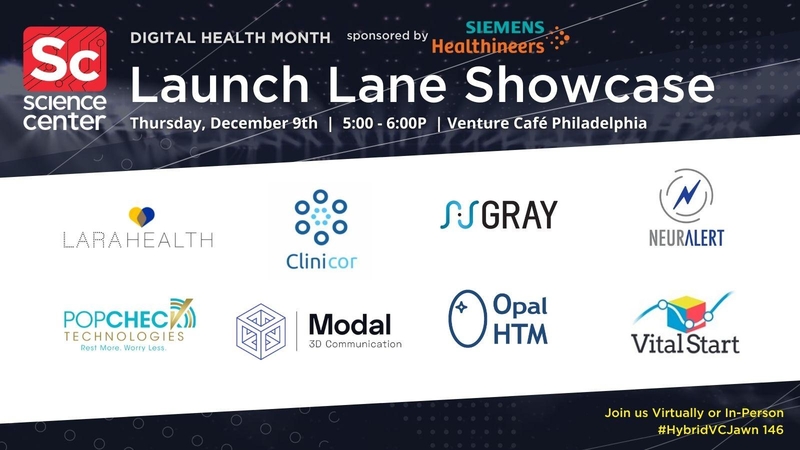 This year Venture Cafe Philadelphia will be hosting our Launch Lane Accelerator Showcase, an annual event highlighting eight of the most promising digital health startups in the U.S. and Canada.

Clinicor is building a digital prescription-only clinic to optimize heart failure patient therapy.
Gray Oncology Solutions is optimizing oncology workflows, so each patient receives high quality, efficient care throughout their cancer treatment.
Lara Health is building a remote patient-monitoring platform, leveraging automation and AI to maximize physicians' revenue.
Modal is a 3D presentation software company bringing real life anatomy to the digital classroom.
Neuralert automates stroke detection using lightweight, wearable wristbands which automatically generate an alert when stroke occurs, speeding life-saving treatment and protecting the 1.2 billion people at risk.
Opal HTM increases hospital efficiency by using a patented sensor network to optimize medical equipment management and upkeep.
PopCheck Technologies specializes in remote monitoring technology to eliminate the occurrence of hospital acquired complications following surgical procedures.
Vital Start Health is developing the first maternal mental health platform using Virtual Reality and AI.
If you'd like to get to chat 1:1 with the founders, join us at 7pm for Meet the Founders of the 2021 Launch Lane Cohort.

Want a peek at last year's virtual showcase? Check it out here!
This is a HYBRID session. Proof of full vaccination is required to attend in-person.
REGISTER