Special Programs
Catalyst: Conversations for Changemakers
Tuesday, Jul 19, 2022 | 1:30 PM-3:00 PM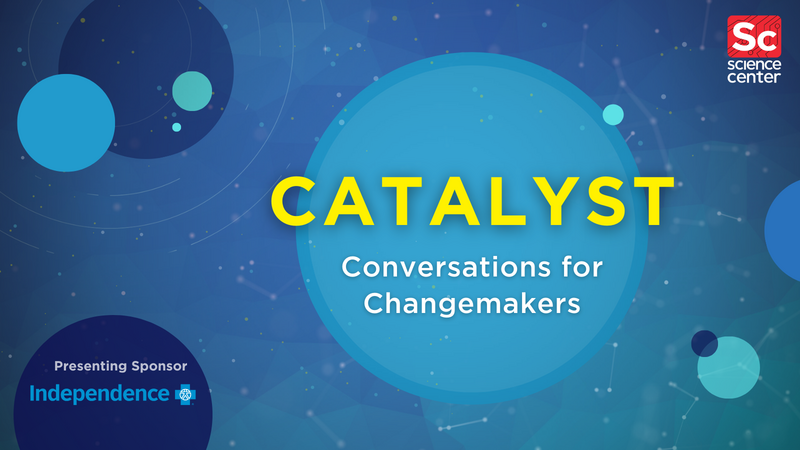 Presenting Sponsor

Leading Through Uncertainty by Building Peak Resilience
Our new summer event is bringing together changemakers to share their expertise on honing the right skill sets to lead through uncertainty.
Agenda
Join us for a fireside chat featuring Amishi Jha, PhD, nationally-recognized speaker, neuroscientist and best-selling author of Peak Mind: Find Your Focus, Own Your Attention, Invest 12 Minutes a Day for a conversation on leading through uncertainty and building peak resilience. Dr. Jha's research on the neural bases of attention and the effects of mindfulness-based training programs on cognition, emotion, resilience, and performance have been leveraged across education, corporate, elite sports, first-responder, and the military.
In conversation with Tiffany Wilson, President & CEO of the University City Science Center, Dr. Jha will share the same cognitive training techniques that she's presented to NATO, the World Economic Forum, and the Pentagon to help you empower your attention and lead with resilience.
Dr. Amishi Jha, PhD is Director of Contemplative Neuroscience and Professor of Psychology at the University of Miami. Prior to her current post, she was an Assistant Professor at the Center for Cognitive Neuroscience at the University of Pennsylvania. With grants from the Department of Defense and several private foundations, she leads research on the neural bases of attention and the effects of mindfulness-based training programs on cognition, emotion, resilience, and performance in education, corporate, elite sports, first-responder, and military contexts. She launched the first-ever study to offer mindfulness training tools to active-duty military service members as they prepared for deployment and In addition to her own published body of research, her work has been featured at TED, NATO, the World Economic Forum, the Pentagon, and the UK Parliament.
featured appearances

"Spark for Change" Lightning Talks:
As a Co-Founder and Chief Operating Officer of HelaPlex, Sharon is a C-Suite Strategist on a mission to fuel racially inclusive and shared equitable and economic growth in Life Sciences and cities across the country. Memphis, TN Born and California raised, for more than 20 years as an Executive Leader, DEI Strategist, Consultant and Author, Sharon has dedicated her career to Human Centric leadership and gained the trust of executives in public-private partnerships across the U.S. She has unlocked the formula for responsible corporate action and leadership reform necessary to build shared, safe, and brave spaces, scaling high-level operational plans with Fortune 500 and Fortune 1000 organizations. As a former, Deputy Executive Director for the Mayor's Office of Philadelphia, she served as a Racial Equity Advisory Council Member and partnered with the National League of Cities during times of Civil unrest. She has been honored to join Win With Black Women (WWBW), a collective of intergenerational, intersectional Black women leaders throughout the nation elevating the agenda and advancing policy in Washington and abroad. She is also a board member with Penn Medicine as an Executive Advisory Council Member (PFAC), HUP Women's Health, Patient & Family, National Association of African Americans in Human Resources, and the National Association of African Americans in Insurance.

Aasta D. Mehta, MD, MPP - Philadelphia Department of Public Health (PDPH)

Medical Officer of Women's Health for the Philadelphia Department of Public Health (PDPH) and OB/GYN clinical faculty at Pennsylvania Hospital. Dr. Mehta completed her OB/GYN Residency and Public Policy/Women's Health Advocacy Fellowship at Drexel University College of Medicine. With the support of Drexel University, Dr. Mehta completed her master's degree in Public Policy. Her public health work is focused on surveillance and programmatic implementation to reduce maternal morbidity and mortality, particularly racial disparities. Dr. Mehta directs the Philadelphia Maternal Mortality Review and Community Action Team (The OVA), leads the Philadelphia Labor and Delivery Leadership Group, the President of The Obstetrical Society of Philadelphia, and is Mayor-appointed to the Philadelphia Women's Commission for which she is currently Vice Chair. Outside of Philadelphia, she represents PDPH and Penn Medicine at the state level as co-chair of the Pennsylvania Maternal Mortality Review Committee and the Pennsylvania Perinatal Quality Care Collaborative Advisory Group, member of the Child Death Review Committee, and Secretary of Pennsylvania section of American College of Obstetricians and Gynecologists (ACOG).

Michael O'Bryan is a practitioner and researcher in the fields of community development, organizational culture, and human well-being. He is a Distinguished Resident Fellow at Drexel University's Lindy Institute for Urban Innovation and the founder of Humanature, a design strategy firm. Humanature works with nonprofits, businesses, and government agencies to transform how they understand and support human development, interaction, and performance. Past and current clients include NeighborWorks America, The Federal Reserve Bank of Philadelphia, New Jersey Community Capital, Strada Education Network, The Opportunity Finance Network, and The United Negro College Fund. Michael has also spoken about his work at such venues as Cornell University's Institute on Employment and Disability, SOCAP, and the Apollo Theater in New York. He is on faculty in Career Studies at the Curtis Institute of Music, a lecturer in city planning at the University of Pennsylvania's Stuart Weitzman School of Design, and serves on the boards of the Samuel S. Fels Fund and the Philadelphia Cultural Fund.