Today, Integral Molecular is a biotech leader that has grown steadily to 26,000 square feet at uCity Square, a joint development among the Science Center, Wexford Science & Technology and Ventas. As they've each grown, Integral and uCity Square have sunk deep roots in West Philadelphia, serving as model citizens who play active roles in workforce and economic development and community outreach.
As in so many real estate matters, Doranz attributes much of Integral's success to location (the Science Center and uCity Square), location (University City), location (Philadelphia). The Science Center, itself a vital hub for scientists, entrepreneurs and innovators, is within walking distance of $1 billion in scientific research, expertise and collaborators in University City. And Philadelphia is among the nation's top 10 biotech clusters.
We're always thinking of new ideas, innovating, creating new technologies. You can do that in a cornfield, but it's a lot easier if you have other creative, innovative companies and people and discussions and seminars and resources around to help you. That's why we've stayed here and are continuing to grow here.
Integral just expanded into new lab and office space at 3624 Market Street, while retaining another 10,000 square feet across the street at 3711. The new space "gives us a growth path to stay in the city," says Doranz, who laughs that in the 25 years since he moved to Philadelphia, he has worked within just a few-block radius.
Doranz and Willis first developed their novel technologies to discover drugs against hard-to-treat diseases at the University of Pennsylvania. With a Wharton School award-winning business plan and an early NIH grant, Integral launched at the Science Center in 2001. The company turned its first profit in 2003, expanded to 10,000 square feet in 2011 and grew again to 14,000 square feet in 2017.
Today, Integral has brought $50 million in NIH grant and contract funding into Philadelphia and established itself as an industry leader with therapeutic programs focused on cancer, pain, immunity and metabolic disorders.
Its 300-plus customers are global and its mission is broad, yet Integral remains firmly committed to what lies just beyond its lab doors, cultivating the next generation of scientists, training residents for in-demand biotech jobs, educating and improving public health outcomes.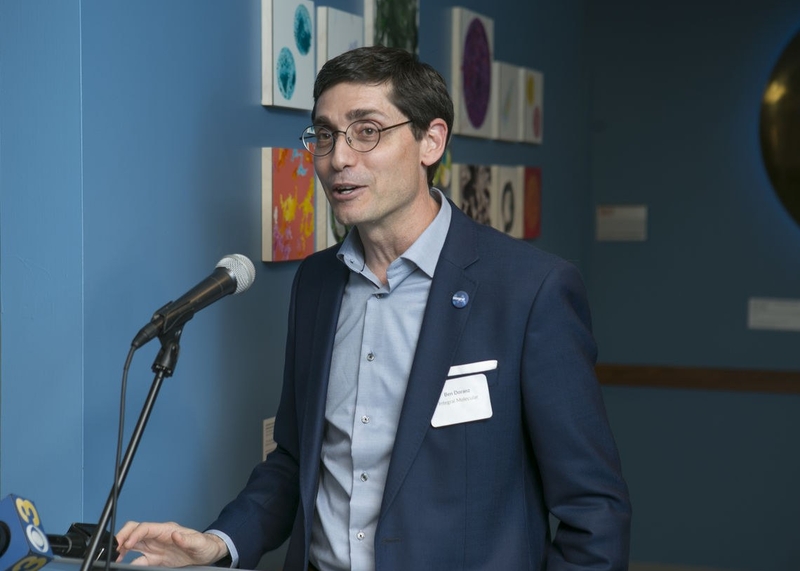 Doranz also founded the Penn Biotech Group (PBG), which provides student-run consulting projects that provide graduate students with real-world skills at the intersection of science and business. Integral has hosted more than 20 Drexel University co-op students, allowing them hands-on experience in a laboratory setting for six-month terms. Many have returned after graduation for full-time employment. In fact, more than half of Integral's 60 employees are graduates of area universities.
Integral has also hosted students from the Community College of Philadelphia through the Wistar Institute's Biomedical Technical Training Program and was recently named the first industry partner at Wistar's Biomedical Research Technician Apprenticeship.
Entry level positions continue to grow within Integral's Lab Management team, and now Integral is taking an active role in developing the Science Center's nascent West Philadelphia workforce development program.
Integral scientists also play an active role in mentoring local middle-school students and introducing them to STEAM disciplines through the Science Center's FirstHand program.
Since founding the BioArt Residency program with the Science Center in 2017, Integral has brought six artists into its labs for three months each to shadow its scientists and create artworks that exhibit at the Science Center's Esther Klein Gallery and beyond.
Projects have involved a "virus" engineered to spread love, cells imagined as stars and, currently, Laura Splan's interdisciplinary exhibition combining biomedical imagery and artifacts with objects made from the hand-spun fiber of laboratory llamas and alpacas. The show is on display at the Esther Klein Gallery through November 23. The BioArt Residency was awarded the Philadelphia Arts and Business Council's 2019 Business + Arts Partnership award.
Artists and scientists are natural collaborators, muses Doranz. "Artists who create and innovate and ask questions are not that different from the kind of scientists we have here. So putting the two together, its not like apples and oranges, its like McIntosh and Honeycrisp apples. They're all apples. We're creating and we're innovating and we're asking questions – we're just doing it in slightly different ways."
Doranz also sees art as a profound tool for talking about science in a skeptical time. "A big part of what we do here [at Integral] is work on vaccines, but why do some people not believe in vaccines? Why don't they trust science?" he asks. "Same thing goes for climate change. Why is there this push back on what science is telling us about where we're headed and how we can save lives?
"This is what science is about, this is what research is about. This is why as scientists we dedicate our entire lives to helping human health. But you just can't explain that in scientific graphs and charts and statistics. I think art can speak to people in a different way, in emotions, and speak to people that might not otherwise listen."