"Having a kiosk inside the Science Center booth was not only cost-effective but also positioned our early-stage company in the right context," Reuven Duer, Ph.D., Founder & CEO of Proactive Diagnostics shared with us.
Chance Connections: The Heart of HLTH
"The beauty of a conference like this is the chance connections," Therese Canares, Founder & CEO of CurieDx, aptly summarized the essence of HLTH. Canares' journey at HLTH began in 2022 when she met Tiffany Wilson and Heath Naquin. It was there that she first heard about the Science Center's Capital Readiness Program, an opportunity that would change the course of her startup's trajectory. Fast forward to HLTH 2023, and CurieDx found itself exhibiting alongside the Science Center, in a full circle of connection. The chance connections made at HLTH extended beyond booth visits; they led to collaborations, partnerships, and new opportunities.
"With a presence at a booth sponsored by the Science Center, I found several potential users/customers that I would not have otherwise known were there," says Canares.
"I'm a believer that success in a startup relies heavily on being lucky. I'm also a firm believer that hard work and showing up creates the opportunity for luck to appear. The networking events each night were incredibly serendipitous and I met half a dozen founders, investors, etc. each night who are incredible people to add to my network and several who are possible collaborators," says Adam Salamon, founder & CEO of Pression.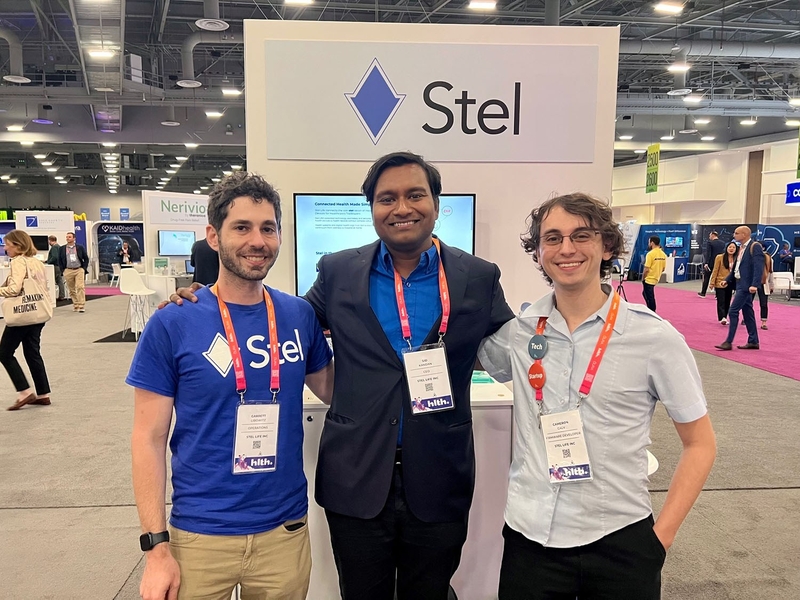 Big Wins: Connecting with Investors and Partners
Success at HLTH isn't just about the number of business cards exchanged (although we recommend bringing plenty); it's about the quality of connections. Salamon's goals for the event included customer discovery, partnership opportunities, and investor connections. Not only did he achieve these goals, but he also found himself discussing collaboration with the Chief Strategy Officer of a major multinational corporation interested in implementing Pression technology to create an all-in-one solution for surgical needs.
A standout moment for Stel Life was connecting with a health system they had been speaking to as a potential partner. "Recognizing them at a networking event and establishing a connection in person reignited a relationship that had become stagnant," says Garrett Libowitz, Operations Specialist at Stel Life.
Duer reflects on HLTH as, "a great opportunity for Proactive Diagnostics to debut its first product and gain initial traction with strategic partners and investors." He goes on to say that "we have generated a few leads and are already following up on them."
Canares achieved similar success through connections to investors specifically in CurieDx's vertical and introductions to people for partnership opportunities.
Investor Power Hour(s)
We hosted Investor Power Hour(s) at our booth each day featuring three Science Center Investors-in-Residence: Lebone Moses, CEO of Chisara Ventures, Jose Padilla, Managing Attorney at Padilla Law, and Eli Velasquez, Capital Advisor to the Science Center and Managing Partner of Investors of Color. HLTH attendees from around the world had an opportunity to ask questions and gain insights from real investors in our network.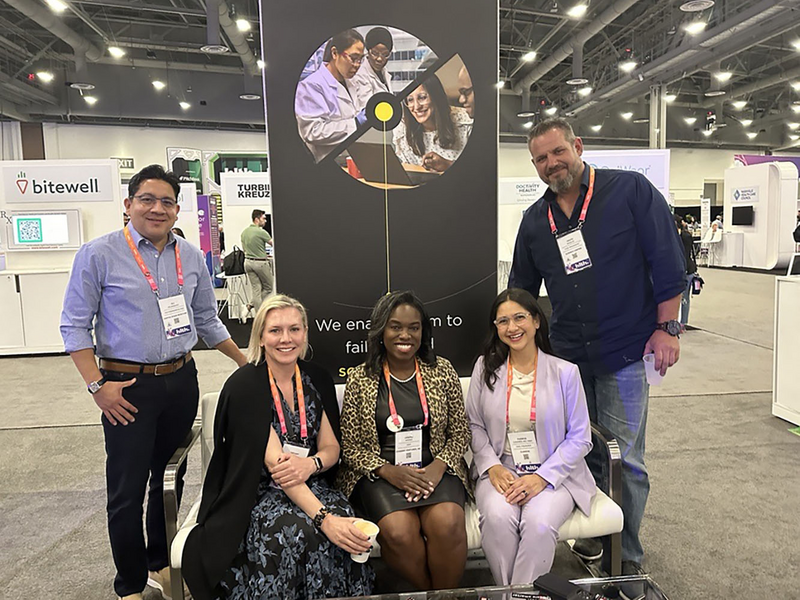 Myth Busting Early-Stage Capital
Beyond the booth, the Science Center team had an opportunity to speak on a few panels including Myth Busting: The State of Startup Capital also featuring Moses and Velasquez in addition to Heath Naquin, VP of Government & Capital Engagement at the Science Center and Dan Sands, Managing Partner of Factor 7 Medical. The panel explored best practices in securing the necessary funding to fuel innovation and growth during this period of volatility. A few takeaways from the standing room-only discussion:
There's a power imbalance between founder and funder, but it's an equal relationship.
Learn the language of your target investor. Don't approach non-technical investors with technical language.
Don't overlook nondilutive options, particularly in this funding environment.
You're not going to get a follow-on investment if you don't perform.
If an investor says your startup is too early for them to invest, ask why. Is it revenue? MVP? Governance? If they can't say, they don't have a sound investment thesis.
Science Center HLTH Panel
Acknowledging the Absence

While the Science Center's presence at HLTH 2023 was marked by success, it's important to acknowledge the somber tone that lingered throughout the event. Science Center booth exhibitor, Tal Shapsa Heiman, Co-founder and CEO of Israel-based digital health company Epilog, along with several of the companies from the adjacent Israel Export Institution Pavilion, were unable to attend the conference due to the attack on Israel on October 7. The absence of Israeli startups and healthcare leaders stands as a poignant reminder of how fragile our health, lives, and existence can be. Our hearts are heavy over the loss of innocent lives.
Fostering a Sense of Community
It's easy to feel lost in the crowd at an event like HLTH. Our presence offered a sense of belonging and community.
"I came into the event with confidence and excitement but certainly still felt a bit overwhelmed at first," Libowitz shared with us. "The Science Center team was fantastic, making me feel both welcome and at ease."
This sense of community goes beyond the conference; it extends into the broader ecosystem that we're constantly cultivating, connecting, and convening. It's a reminder that even in a vast industry like healthcare, we can find our crew.