I've been surprised to learn just how large of a footprint and influence the Science Center has in the community. There's so much incredible work being done to position Philadelphia as a leader in science, technology, and education.
Before Garry Johnson had even considered becoming our new Venture Café Philadelphia Program Manager and Experience Designer, his likeness already appeared in our latest Science Center Impact Report; there have been several Thursday Gatherings where Garry networked, participated in pitch sessions, and, at one point, took part in a pretty dynamic panel of speakers.
With the type of renewed insight into the magic of Venture Café that can only come from having the unique perspective of being an attendee and now a part of the team, we couldn't help but notice how his VC journey mirrors his background in entrepreneurship, and his connection to this city. Garry has repeatedly supported underrepresented founders while successfully founding an accelerator himself, and as a Philly native coming back to the city after time spent immersed in the Delaware startup scene, he has an interesting take on how the two regional neighbors can borrow strengths from each other.
Read on to learn more about Garry and make sure to say "hello" when you see him at our next Thursday Gathering- that is, if you haven't already.
What drew you to the Venture Café Program Manager and Experience Designer position at the Science Center?
Being an "outsider," Venture Café's Thursday gatherings were one of those weekly occurrences that I just had to attend. Every week, I'd meet the movers and shakers in the community who otherwise were super difficult to get a hold of. The VC atmosphere is like nothing else and you truly feel like you belong, even if you're in a room full of strangers in industries you're not familiar with. After visiting Quorum's Drop-In Lounge and attending Venture Café, I then became a member of CIC's 36for75 cohort, and now here I am!
You have extensive experience in supporting entrepreneurship for underrepresented founders. What led you to this career path?
As an undergrad, I fell in love with entrepreneurship after experiencing so much of my own growth and opportunity. I'd participated in plenty of entrepreneurial programs and pitch competitions and saw how I was developing as a leader and problem solver. I wanted to create those same opportunities for others like me in the community, so I started an annual pitch competition for young men of color. From there, I found a passion for creating that same access and opportunities for others through entrepreneurship and traveled the country to learn more about the challenges facing underrepresented founders. In communities ranging from NYC, to Philly, to Miami, and certainly Silicon Valley, I heard their countless stories about the many struggles they experienced. Being an entrepreneur myself, I couldn't just sit back and hope for things to get better, I had to actively contribute to improving the outcomes of founders who deserved so much more.
What are some memorable moments you experienced as a guest or presenter at Venture Café?
I remember being asked to host a Pitch 101 workshop during Backstage Capital's takeover night and I was so honored. To be featured on a flyer with Arlan Hamilton, one of my personal heroes, was so surreal. The best part was that when it came time for my session, there was such a great turnout that my room had to be changed at the very last minute to accommodate everyone who wanted to attend.
What have you been most surprised to learn since you made the transition to be part of the Venture Café team here at the Science Center?
I've been surprised to learn just how large of a footprint and influence the Science Center has in the community. There's so much incredible work being done to position Philadelphia as a leader in science, technology, and education. Additionally, through Venture Café's global network, my worldview has been dramatically broadened and it's been incredible to have access to colleagues in Sydney and Japan who we can collaborate with. The success of our recent Global Gathering has already led to continued collaborations to share knowledge and build a better future for all of us.
You spent a lot of time in the Delaware startup scene. What could Philadelphia learn from that ecosystem?
I think both ecosystems have a lot to learn from one another, and I see a perfect opportunity to use Venture Café as a means to share knowledge and resources. The beauty of Delaware is how easy it can be to connect with key stakeholders in the community, and Philly benefits from much more robust resource offerings for local entrepreneurs.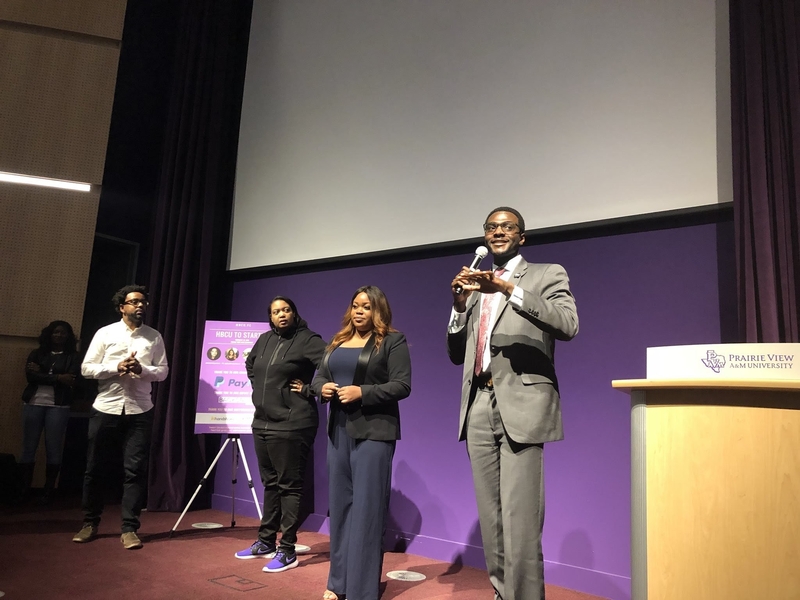 The startup community in Philly has already generated buzz nationwide. Where do you see it 5-10 years from now?
In the near future, I can see Philly being a go-to destination for entrepreneurs and innovators of all types. I think we've got a unique opportunity to build a more inclusive and equitable ecosystem that other cities have historically, and in turn can serve as an example of what other regions can be.
What are some of the challenges and opportunities you've seen in Venture Café's pivot to virtual in light of the pandemic?
It has certainly been a challenge translating the community aspect of VC into the virtual realm, but the incredible opportunity we have in front of us is that we're able to engage and connect with so many more people around the world.
What's your super-power?
Empowering others to put their creativity and unique experiences to good use.
What's your favorite thing about Philly?
I love the diversity and the pride people have for the community!