Our definition of "Center" has changed.
Webster defines it as a facility providing a place for a particular activity or service. For the Science Center, that's partially true but it doesn't tell the whole story.
Center is also a source from which something originates; a region of concentrated population; and a group of neurons having a common function. This is perhaps the most accurate description of where we operate, and reinforces that our mission of commercializing technology, cultivating talent and convening people to inspire action isn't confined to our uCity Square campus.
When our daily routines were uprooted in March, we adapted and redoubled our efforts to support our diverse community at a time when support was needed more than ever. Here's a look at what we're doing from the center and beyond:
Commercialization
Startups will be the source of both new innovation and net job growth on the other side of this pandemic. That's why we're laser-focused on identifying, accelerating and investing in research and companies addressing unmet needs, as one of the many ways the Science Center is leaning into science- and tech-based economic development.
Last month we announced our investment of $300,000 in seven companies through our Launch Lane Accelerator. Those companies – along the with 100+ others we support through our commercialization programs at any given time – represent sprouts that will grow in tomorrow's economy.
The 50+ members of our collaborative workspace, ic@3401, continue to connect virtually. Monthly lunches, one-on-one sessions and an active Slack channel enable the startups to maintain their connection to the community we've built.
As a member of the BARDA DRIVe Network for the last two years, the Science Center has worked to identify technologies that address national health security threats, with COVID-19 as a prime example. Over the last few months, we've connected ten companies and researchers developing COVID-19 solutions to BARDA, for potential support.
Our current reality reminds us that now more than ever we exist in a global economy. We're responding with the third cohort of our US Market Exploration Boot Camp, which will take place online, with an option for in-person meetings with investors when it's safe to do so. The 10-session boot camp taking place next month is designed to ensure a soft landing for med-tech companies looking to get a foothold in the US marketplace.
And our two initiatives that identify the most promising technology from the region's academic institutions continue to advance life science research towards commercialization. Our QED Proof-of-Concept program and the CSL Behring – Science Center Research Acceleration Initiative each closed for application submissions last month, after being open to a collective 28 institutions. Over the next several months, researchers will be selected for both programs for an opportunity to fast track discovery.
Cultivating
When the FirstHand Lab can't be occupied by the minds of tomorrow, we bring the lab to them. FirstHand has been producing daily science projects using household products; these projects are shared on Instagram and are available to all students and families. Additionally, David Clayton, our Director of STEM Initiatives, leads a biweekly Venture Café session for parents interested in designing project-based learning experiences at home. Titled The Kids Are Alright, the sessions have covered a variety of hands-on maker projects for kids while at home.
We have a renewed sense of urgency and determination as we build out our Workforce Development initiative aimed at placing West Philadelphians in family-sustaining careers at life sciences companies. During this time of increased unemployment, we see an opportunity to take those seeking employment and train them for the STEM jobs that still demand workers today and will be the drivers in rebooting our economy tomorrow. Supported by The Lenfest Foundation and in partnership with University City District and eCLOSE Institute, our pilot week-long virtual training will take place in July and focus on lab environment skills sought after by local science and tech companies.
Convening
The connective tissue that holds these initiatives together are our convening capabilities. The programming that we've created through Quorum and Venture Café hasn't missed a beat since transitioning from physical to digital, and the new medium has revealed itself to be ripe with possibility.
On March 5th, a week before most of Philadelphia adjusted to events in a digital setting, we announced that Venture Café Philadelphia would be going virtual for the foreseeable future. As Tracy Brala shared on the Economy League's web series The Pivot, it was our way of fine tuning our technology capabilities before it was absolutely necessary. What we didn't realize at the time, however, was that our inability to be together locally enabled us to strength our connection globally. Virtual Venture Café Philadelphia benefits from the network of people and content from 10 other Venture Cafés around the world, from Tokyo to Miami. Since we initiated Venture Café Virtual, we've welcomed over 1,500 visitors.
On March 23rd we launched Lunchtime Lessons, Quorum's new virtual series. From yoga and nutritional counseling, to startup resources and bullet journaling, we cover an array of topics designed to educate and engage.
Funding the Hustle at Venture Cafe July 2019
Virtual Ventue Café Philadelphia

Virtual Ventue Café Philadelphia
Despite all the virtual activity taking place, our home at uCity Square remains active.
Penn Medicine, an anchor at uCity Square, is providing critical healthcare to the community. As the frontline workers face the sobering realities of the pandemic head-on, we continue to keep the facilities occupied by healthcare workers clean, accessible, and compliant with CDC recommendations.
Beyond the healthcare workers, several uCity Square-based companies are actively tackling COVID-19 head-on, researching therapies, vaccines and diagnostics.
Located in the heart of University City, uCity Square is positioned at the intersection of today's healthcare solutions and tomorrow's healthcare possibilities. We continue to lay the groundwork for an expansion of life sciences lab and office space on our campus. Construction has restarted on the SLA-MS (k-8 school) as well as the residential project at 3700 Lancaster Ave., and we expect construction to resume on One uCity Square in the coming month.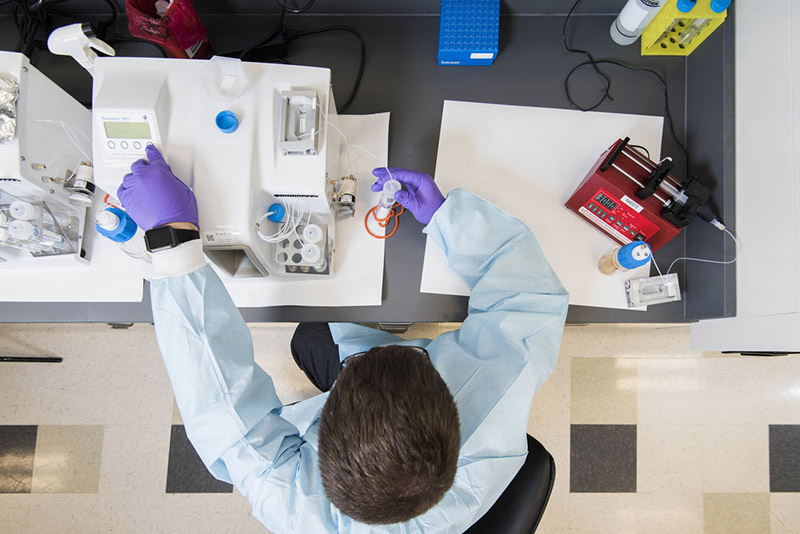 While we'd like nothing more than to see you all in the same room soon, we're still at the center, pushing forward to do our part in ensuring the economic recovery is supported now and that the groundwork for the healthcare solutions of tomorrow is underway.
Until then, we'll be together virtually.