Philadelphia, PA – (March 30, 2021) -- The University City Science Center has selected eight startups from the U.S. and Canada for the latest iteration of its Launch Lane Accelerator. This will be the fifth cohort for Launch Lane (formerly the Digital Health Accelerator (DHA)). Launch Lane focuses on the equitable sourcing of companies, with the selection process utilizing a blind application to eliminate biases.
A collective $200,000 will be awarded to the eight participating companies with another $200,000 available as they continue to meet their individual milestones. In addition to a Science Center investment, the cohort will participate in weekly programming tailored to their growth needs (currently offered virtually), receive membership at the ic@3401 incubator for a year, and gain access to the Science Center's vast network of connections and resources.


2021 Launch Lane Cohort:
Clinicor, Philadelphia, PA
Clinicor is building a digital prescription-only clinic to optimize heart failure patient therapy.
Gray Oncology Solutions, Montreal, QC
Gray Oncology Solutions is optimizing oncology workflows, so each patient receives high quality, efficient care throughout their cancer treatment.
Lara Health, Philadelphia, PA
Lara Health is building a remote patient-monitoring platform, leveraging automation and AI to maximize physicians' revenue.
Modal, Philadelphia, PA
Modal is a 3D presentation software company bringing real life anatomy to the digital classroom.
Neuralert, Philadelphia, PA
Neuralert develops wristbands that detect and alert hospital staff to the onset of a stroke, in one-fourth of the time it currently takes, saving lives, improving outcomes, and lowering cost.
Opal HTM, White Plains, MD
Opal HTM increases hospital efficiency by using a patented sensor network to optimize medical equipment management and upkeep.
PopCheck Tech, Memphis, TN
PopCheck Tech specializes in remote monitoring technology to eliminate the occurrence of hospital acquired complications following surgical procedures.
Vital Start Health, Philadelphia, PA
Vital Start Health is developing the first maternal mental health platform using Virtual Reality and AI.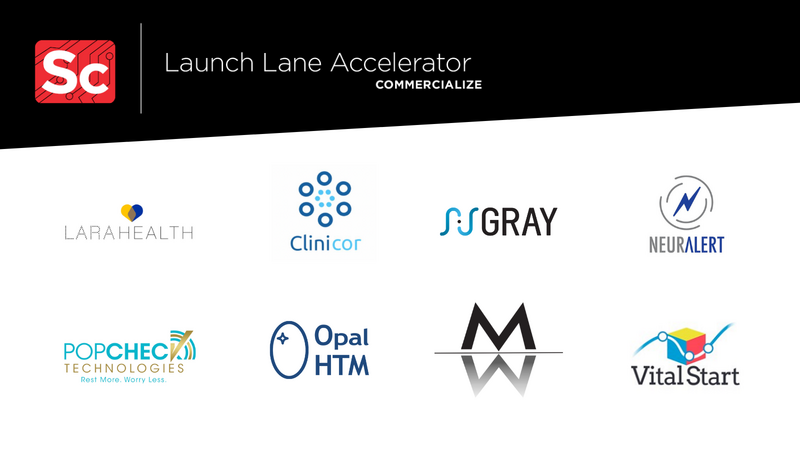 "The pandemic has made it difficult for companies to find an effective community to help them grow and succeed financially," says Aron Starosta, Ph.D., Vice President of Commercialization and New Ventures at the Science Center. "These eight companies represent some of the most promising digital health startups with the potential to disrupt the way healthcare providers and patients interact. We're eager to provide them with the expertise and a community that will help them launch their products and better commercialize."
With the inclusion of the 2021 cohort, the Science Center has supported 35 companies through the Launch Lane Accelerator, investing a total of $1.4 million. Those companies have gone on to raise over $100 million in follow-on funding, generating $50 million in revenue and creating over 300 jobs. More than 50% of the startups supported by Launch Lane are women or minority led.
Launch Lane advisors include accomplished and established members of Philadelphia's innovation ecosystem: Liz Brown and Nestor Canales of Fawns Leap; Brigitte Daniel, Founder of Mogulette and Executive Vice President of Wilco Electronic Systems; Allen King of Allagi, LLC; and Thom Webster, Partner at Black Squirrel Collective, and advisor to Black & Brown Founders and Backstage Capital.
Launch Lane is part of a suite of commercialization programs offered by the Science Center that are collectively designed to identify, support, and commercialize the most promising technologies. Supporting companies ranging in focus from biotech and therapeutics to software development and AI, the Science Center helps put teams into place, identify early resources and connect founders with its vast network of academic and research institutions and industry partners. Over the last ten years the Science Center has supported over 600 startups and invested $13.4 million with over $1 billion raised in follow-on funds.
About the Science Center
Located in the heart of uCity Square, the Science Center is a mission-driven nonprofit that commercializes promising technology, cultivates talent and convenes people to inspire action. For over 50 years, the Science Center has supported startups, research, and economic development across the emerging technology sectors. As a result, Science Center-supported companies account for one out of every 100 jobs in the Greater Philadelphia region and drive $13 billion in economic activity in the region annually. By providing the right help at the right time, the Science Center is turning bright ideas into businesses and nurturing a workforce to support our 21st century economy. Visit sciencecenter.org to learn more.