It was this unique incubator of artistic innovation that inspired the French writer André Breton to write his 1924 Surrealist Manifesto, and subsequently start the surrealist movement. One of the key philosophies of surrealism was for artists to access their unconscious minds, let go of their egos and to embrace chance.
Exquisite Corpse is a game developed by the surrealists as a way to facilitate creativity as a shared experience, while relying on chance to generate unexpected outcomes.
Fast forward to 2020: the world is locked down in quarantine and nobody knows when, or if, things will change. Art museums and galleries are closed, residencies are cancelled, and commissions are postponed. Artists—who are usually tasked with creating reflections of their world around them—have no idea how to make sense of these experiences. But how do you make sense of a tornado when you're stuck in the middle of it? Physically isolated from one another and with few artistic prospects on the horizon, it is a time to be introspective.
Unprecedented Times: A Socially Distanced Art Project is a collective exquisite corpse-inspired collaboration by over 100 artists from around the U.S. and abroad. In the fall of 2020, an open call for artists yielded a diverse group of professional and novice creatives who were then placed randomly into groups of three. Each group member created a portion of a work of art, adding to it in sequence as it was mailed to the next participant, and ultimately to the Esther Klein Gallery for an exhibition that opened last week. This collection of work includes writings, works on paper, sculptures, assemblages, and installations.
The submissions are all wonderful and unexpected specimens of chance, made up of unique parts that could never be arrived at alone. The experiences between participants were varied, with some artists loving the idea of new-found friends and explorations, while others were disappointed or even shocked by the final outcome. No matter what, each group approached this project in their own way as there were no rules for participation.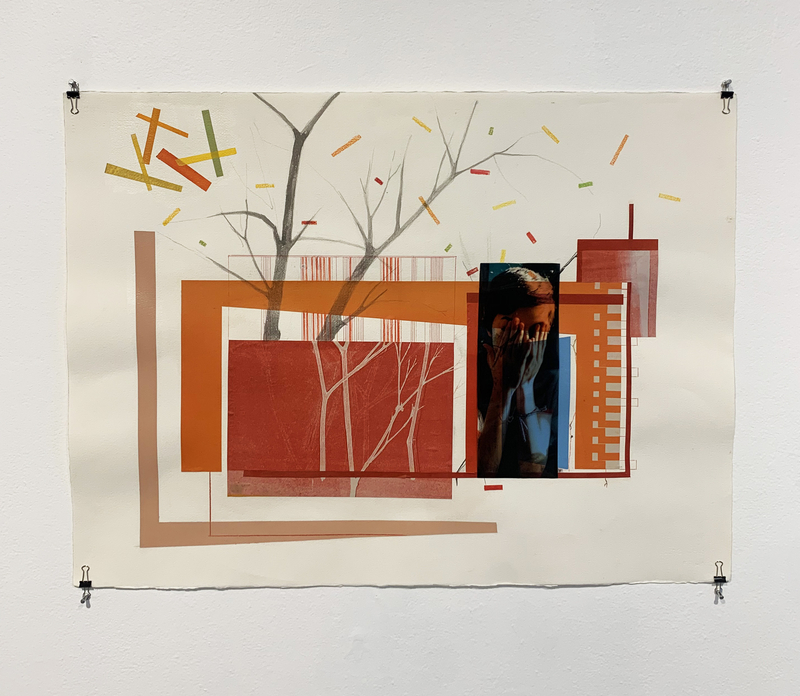 The Femme Collective, a group of six Philadelphia-based female artists (Deirdre Murphy, Nazanin Moghbeli, Agathe Bouton, Emily Selvin, Diane Lachman and Ava Blitz) who regularly meet for critiques, decided to ditch the three-person model and work collectively on a series of six collages on paper together. This approach is unique; despite the fact that these artists are familiar with each other's work, they have never combined their skills on one piece of paper. The outcomes are beautiful and also establish connections between seemingly disparate motifs and themes, opening the door to future collaborations.
The largest piece in the show is a nine-foot pyramid-shaped sculpture created by the Plant Intelligence Agency, Keith Hartwig and Natalie Hijinx. Made from metal, grass, cast resin, tree trunks and caution tape, this piece originated in California with invasive black mustard (known to be an invasive species prone to burn) collected from sites of the 2020 wildfires. Shipped to Philadelphia, trunks of the invasive "Tree of Heaven" species were added as a support, then charred to represent the idea of clearing one plant species to make room for another, with a comparison drawn to the Philadelphia housing crisis.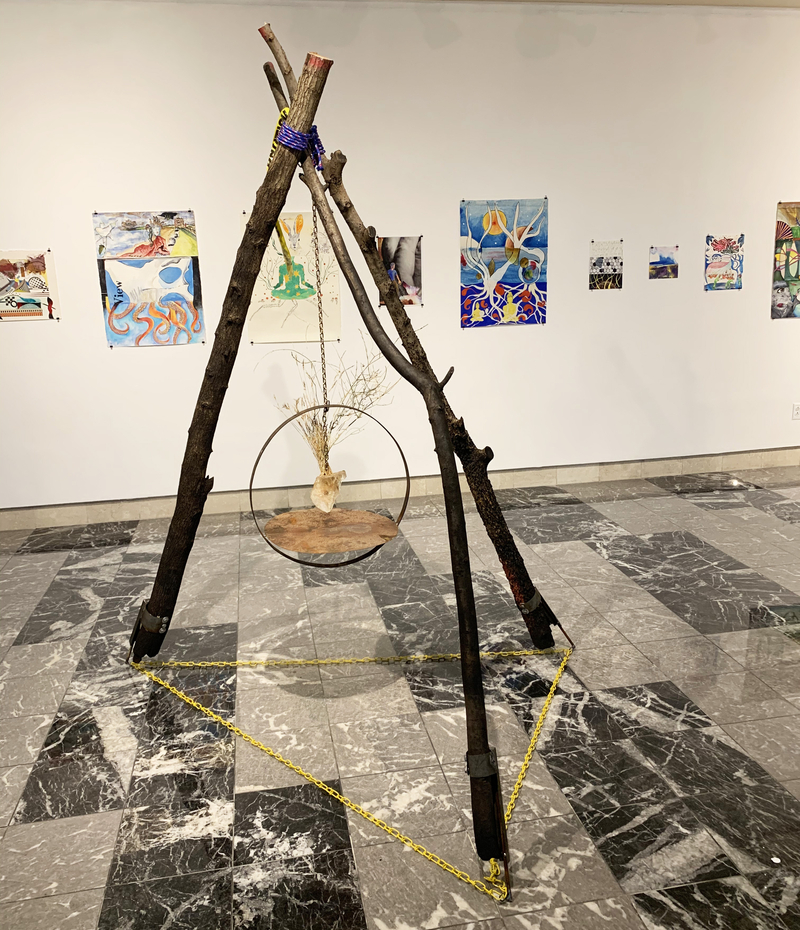 The most unexpected outcome came from a project by Robert Reinhardt, Devon Victoria and Suji Kanneganti. Reinhardt started off the piece with a watercolor scene featuring an intricate pen and ink, western-inspired drawing by Victoria. This drawing was then mailed to Kanneganti who decided to literally reduce it to pulp and create a new piece of blank paper. Reminiscent of the famous Robert Rauschenberg work where he erased an entire drawing by Willem de Kooning, this action pushed the boundaries of the definition of collaboration to say the least.
It is difficult to put into words the amount of creativity, ingenuity and inspiration that went into this exhibition. The diversity of color palettes, mediums, subject matter, and working styles is palpable upon entering the gallery. Organizing this project was a really enjoyable experience. Each time I received a piece of art in the mail, it was like unwrapping a Christmas present. The virtual reception gave me a real sense of community that I haven't experienced in a long while. Despite the physical distance, we were able to gather in a virtual space and talk openly about a shared creative experience. One day we will be able to look back and make sense of the larger shared experience we are all going through, but in the meantime we must cultivate a sense of community and remember to remain open to unexpected outcomes.

Unprecedented Times: A Socially Distanced Art Project is currently on view at the Esther Klein Gallery until April 30. Visits are made by appointment only.