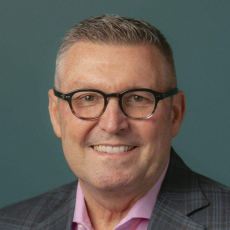 Kevin Baumlin

Chief Medical Affairs Officer
Kevin M. Baumlin, MD, FACEP, joined the Science Center in 2023 as the Chief Medical Affairs Officer. Dr. Baumlin brings to the Science Center over 30 years of professional experience as a clinician, leader, and advocate for improving lives through compassion, science and technology.
Baumlin came to the Science Center after a run for US Senate in Pennsylvania where he toured the Commonwealth and listened to the voices of citizens who yearn for solutions to improving our healthcare system. Prior to his political campaign he was Chair of Emergency Medicine at Pennsylvania Hospital, and Vice Chair of Emergency Medicine for the Perelman School of Medicine. Kevin previously served as Chair of Emergency Medicine at Mount Sinai Beth Israel Hospital in New York, and Vice Chair and Professor of Emergency Medicine at the Icahn School of Medicine at Mount Sinai Medical Center in New York.
Kevin was born in Philadelphia and grew up in Holmdel, New Jersey where he attended public schools through high school. He earned a degree in Chemistry at Cook College at Rutgers then continued his education at Hahnemann Graduate and Medical School. After Medical School he completed a year at Crozer Chester Medical Center then a three-year Emergency Medicine Residency at Jacobi Medical Center in the Bronx New York.
Baumlin's academic interests lie primarily in informatics and geriatric emergency medicine. He has been a funded researcher and has published and lectured widely on both topics in leading academic journals. Baumlin holds multiple professional certifications and memberships including board Certification in Emergency Medicine and in Clinical Informatics.
Over the course of his career, Kevin has also received several prominent honors, grants and awards including recognitions for excellence in teaching and patient care. He is a skilled and committed educator, having taught medical students, physician assistants and residents. As a leader in the business of medicine, Baumlin led the drive to open Mount Sinai's first Urgent Care Center as well as Penn's first Urgent Care located in the Constitution Health Center.
Kevin is a creative leader who believes in developing diverse teams to deliver health care and technology to patients and providers. He lives in Center City Philadelphia with his husband Patrick Mahanger and their beloved boxer Duke.
email hidden; JavaScript is required