Nucleus Awards
2023 Convener Award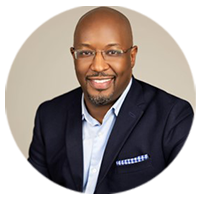 Sulaiman W. Rahman
President and CEO, DiverseForce
Sulaiman W. Rahman is a visionary leader and CEO at DiverseForce, a human capital solutions firm that specializes in helping organizations to recruit, retain, engage, and develop top diverse talent. With decades of community building experience, Rahman founded UPPN, now known as BBEx Network, in 2007, which has become one of the Greater Philadelphia area's largest and most respected professional networks, with over 20,000 subscribers representing diverse talent pipelines from early career to C-suite.

Under Rahman's leadership, DiverseForce has launched innovative solutions for the social impact sector, including DiverseForce on Boards, in partnership with the University of Pennsylvania, and DiverseForce Executive Search. In 2021, he launched P4 Hub, an 11,200 sq ft facility located in a federally designated opportunity zone in the Germantown area of Philadelphia, serving as a high-tech and high-touch hub for advancing racial equity and excellence. P4 Hub has quickly become a leading center for cross-sector collaboration and place-based impact.

Rahman's impressive board and committee memberships include serving as Chairman of the Board for Philanthropi Charitable, a donor-advised fund, Vice President of the Board of Directors at Community College of Philadelphia Foundation, and Executive Committee member of the Board of Directors for Mastery Charter Schools, The Philadelphia Orchestra and Kimmel Center of Performing Arts, and Lenfest Institute of Journalism. He also serves on the Board of Advisors for Lendistry, a fintech social enterprise with annual revenues of over $250 million. Rahman has been recognized for his significant contributions, including receiving President Obama's Gold Volunteer Service Award and being appointed as Co-Chair of the 2016 Democratic National Convention's Volunteer Committee.

Rahman is an exceptional leader with a proven track record of success in building communities, developing diverse talent pipelines, and advancing racial equity and excellence. His expertise, reach, and impact make him an invaluable asset to any organization seeking to cultivate diverse talent, foster cross-sector collaboration, and achieve scalable impact.
Nucleus Convener Award
Recognizes an individual or organization that has generated new ideas or solutions through collaboration, placemaking or unique introductions. The awardee has removed barriers to connect assets, resources and strengths of diverse people and organizations to advance civic interests and improve lives
2023 Convener Award sponsor

The Nucleus Awards
It's that time of the year again! We'll be networking and celebrating leaders in our region who convene the community, commercialize promising technology and cultivate the future of STEM, during our biggest night of the year.
Find out more