Nucleus Awards
2020 Convener Award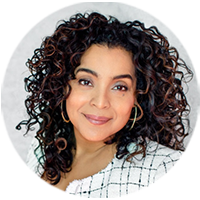 Aurora Archer, Founder and CEO of The Bellatrix Group, Co-Host of the Opt-In Podcast

Aurora an award winning digital marketing executive with 25 years of delivering business impact across industries. Aurora co-founded the Bellatrix Group in 2018 to enable health and wellness clients create meaningful disruption through a human-centered approach, creating engaging experiences that truly serve the audience while delivering bold commercial growth. Additionally, Aurora co-hosts The Opt-In, a podcast of two unlikely best friends from sharply different racial, ethnic and socioeconomic backgrounds using the power of love and friendship to transform our culture one uncomfortable conversation at a time.
Nucleus Convener Award
Recognizes an individual or organization that has generated new ideas or solutions through collaboration, placemaking or unique introductions. The awardee has removed barriers to connect assets, resources and strengths of diverse people and organizations to advance civic interests and improve lives.
2020 award sponsors