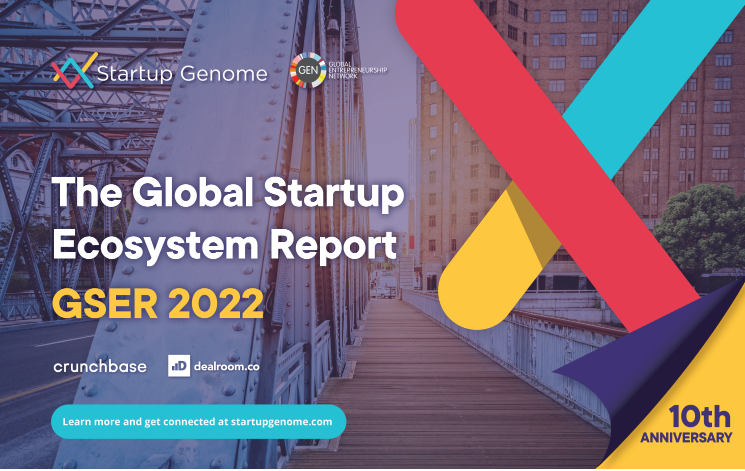 SAN FRANCISCO, Calif. — June 14, 2022 — The 2022 Global Startup Ecosystem Report (GSER) by Startup Genome was launched today at London Tech Week. The GSER is the world's most comprehensive, data-driven research on startups with 280+ entrepreneurial innovation ecosystems and 3 million startups analyzed. The Report includes a ranking of the leading 140 ecosystems, continental insights, and founder-focused articles from thought-leading experts.
Ben Franklin Technology Partners, University City Science Center and Drexel University worked in concert with Startup Genome to showcase Philadelphia's entrepreneurial ecosystem in the #GSER2022 -
Ranked as the #27 Global Startup Ecosystem Overall

Top 20 Global Ecosystem and Top 10 North American Ecosystem in Performance — measures the size and performance of an ecosystem based on the accumulated tech startup value created from exits and funding

Top 30 Global Ecosystem and Top 15 North America Ecosystem in Talent & Experience — measures long term trends over the most significant performance factors and the ability to generate and keep talent in the ecosystem

Top 15 North American Ecosystem in Funding — measures innovation through early stage funding and investor's activity

Top 20 North America Ecosystem in Knowledge — measure innovation through research and patent activity

Created $45.6b in Ecosystem Value from Jul 01, 2019 to Dec 31, 2021

Diverse and skilled talent and a hospital and university research hub are cited as reasons a startup should move to Philadelphia

The AI, Big Data & Analytics and Life Sciences sectors are highlighted for their density of talent, support resources, and startup activity
"While so many ponder what location and place now mean to innovation, Philadelphia's ranking in this year's GSER supports what we know and feel: this place is thriving," said Scott Nissenbaum, President and CEO of Ben Franklin. "The steady growth of opportunity within Philadelphia's life sciences and technology communities gathers increasing interest throughout the world, while our ecosystem keeps making strides for lasting impact."
"The accelerated ranking of Philadelphia in the 2022 Global Startup Ecosystem report validates that Philadelphia is on an upward trajectory," says Science Center President & CEO Tiffany Wilson. "We're well positioned to continue that momentum and if done right, serve as a global model for not only startup acceleration, but inclusive ecosystem growth."
"Startup Genome is honored to work with Ben Franklin Technology Partners, University City Science Center and Drexel University in accelerating ecosystem growth, job creation and impact in Philadelphia," shares JF Gauthier, Founder & CEO of Startup Genome. "We are excited about Philadelphia's startup community's future because of the increasing investment in its innovative entrepreneurs."
The GSER is created in partnership with the Global Entrepreneurship Network, Dealroom and Crunchbase. The 2022 Edition provides insights and guidance to public and private leaders on how to foster thriving startup communities — the #1 engine of job creation and economic growth. Discover how 140 entrepreneurial ecosystems across the world stack up and view the full report here: https://startupgenome.com/report/gser2022.

ABOUT Ben Franklin Technology Partners
Ben Franklin Technology Partners of Southeastern Pennsylvania (Ben Franklin) is the Philadelphia region's Partners with a Purpose. Nationally ranked among the most active seed and early-stage investors, Ben Franklin helps high-growth innovative enterprises plant and nurture their roots, creating both immediate connections and lasting economic growth. The nonprofit has supported more than 2,000 companies to deliver an impact of more than $5 billion and 32,000 jobs in the Philadelphia region. Whether in tech, life sciences, manufacturing, or industries and breakthroughs yet discovered, Ben Franklin works to raise the community of innovation higher, to benefit present and future generations of Pennsylvanians. Visit us at partnerswithapurpose.org or follow us at @bftp_sep.
ABOUT University City Science Center
The University City Science Center is Philadelphia's premier catalyst of entrepreneurial activity, healthcare innovation, and economic growth. Established in 1963, the nonprofit has been recognized by The Brookings Institution as a best-in-class investor, mentor, and economic development partner for young technology companies. Working alongside industry partners and leading research and academic institutions across the globe, the Science Center has supported over 1,000 early-stage companies. Today, the organization advances healthcare innovation from idea to the marketplace through startup support services and building inclusive STEM pathways for Philadelphia youth and adults. For more information visit sciencecenter.org or follow us at @UCScienceCenter.
ABOUT Drexel University
Drexel is a comprehensive global research university with a unique model of experiential learning that combines academic rigor with one of the nation's premier cooperative education programs. Drexel is classified as "R1: Doctoral Universities" by the Carnegie Classification of Institutions of Higher Education, a designation given to U.S. research institutions with the highest level of research activity. In 2021, the Princeton Review ranked Drexel's Close School of Entrepreneurship #12 in the U.S. for undergraduate entrepreneurship programs. Visit us at drexel.edu.
ABOUT STARTUP GENOME
Startup Genome is the world-leading policy advisory and research organization for public and private organizations committed to accelerating the success of their startup ecosystem. We have advised more than 125 clients across six continents in 45+ countries to date. Working side-by-side with 300 partner organizations, our frameworks and methodologies have become instrumental to define and execute robust policies and programs that drive lasting change. Many of the world's leading governments and innovation-focused organizations have joined our knowledge network to cut through the complexities of startup ecosystem development and fuel sustained economic growth. Follow our work at startupgenome.com, and follow us on LinkedIn and Twitter.
---
For interviews and further inquiries, please contact:
Anthony Stipa, for the University City Science Center
610-420-1724
anthony@quickstudypr.com
Tricia Naik
Chief Operations Officer, Startup Genome
t.whitlock@startupgenome.com
WhatsApp: +1-770-561-1701