PHILADELPHIA--(July 8, 2021) – The University City Science Center announces the election of two new Board members following its 2021 Annual Meeting of Shareholders held on June 17th: Christian Eusemann, Ph.D., Vice President, Research and Innovation at Siemens Healthineers, and Kisha Hortman Hawthorne, Ph.D., Senior Vice President and Chief Information Officer at Children's Hospital of Philadelphia (CHOP).
"The addition of Drs. Eusemann and Hawthorne to our Board of Directors reinforces and strengthens the Science Center's expertise in facilitating the commercialization of life saving technologies," says Tiffany Wilson, the Science Center's President & CEO. "I'm delighted to work alongside our new and longstanding board members to build on the organization's core competencies at time when innovation in the life sciences and healthcare has never been more important."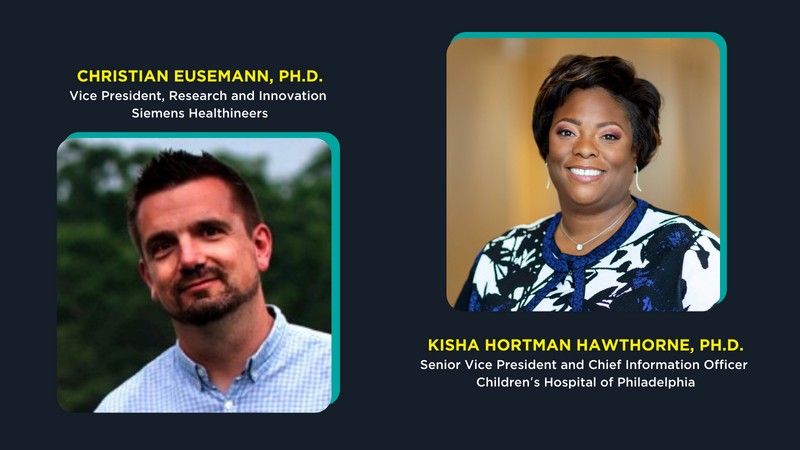 Dr. Eusemann oversees research and innovation relationships for Siemens in medical imaging, laboratory diagnostics, and therapies in the Americas. After a postdoctoral fellowship in technology commercialization at Mayo Medical Ventures, Dr. Eusemann joined Partners Healthcare in Boston, Massachusetts as Licensing Associate in their division of Research Ventures and Licensing. In 2007, he joined Siemens Medical Solutions USA as Scientific Collaborations Manager in Computed Tomography. During his tenures at Partners and Siemens, Dr. Eusemann held academic positions at Harvard Medical School and Mayo Clinic College of Medicine, respectively. Prior to his current role, he held the position of Vice President, Collaborations for Siemens Medical Solutions USA. Outside of Siemens, Dr. Eusemann acts as advisor for various societies and institutions. He holds a Ph.D. in Biomedical Engineering from the Mayo Clinic College of Medicine-Mayo Graduate School.
Dr. Hawthorne's healthcare career spans over 20 years, with extensive experience in hospital operations, information services (IS), revenue cycle, leadership development and project management. Working collaboratively with the IS Executive Committee and other CHOP senior leaders, Dr. Hawthorne manages an enterprise-wide portfolio of over 90 IS projects annually. She leads the IS department with 550 full-time staff members, supporting approximately 16,000 employees, 1,000 doctors and trainees, and 1,500 Research Institute professionals. Dr. Hawthorne also has executive strategic responsibility within Health Information Management (HIM), Coding and Release of Information, and Biomedical Engineering. She holds a bachelor's degree in biological science from Florida Agricultural and Mechanical University (A&M), a Master's of Healthcare Administration (MHA) from the University of Minnesota's Carlson School of Management, an MBA from the University of St. Thomas, and a Ph.D. in information studies from Drexel University's College of Computing and Informatics (CCI). Dr. Hawthorne has been a Fellow in the American College of Healthcare Executives for 15 years. Since 2018, she has served on CCI's Dean's Executive Advisory Council as well as the Committee of Seventy and Evanta, Philadelphia CIO Executive Summit. In 2019, Dr. Hawthorne was recognized by the Healthcare Information and Management Systems Society (HIMSS) as a recipient of the Most Influential Women in Health IT Award.
About the Science Center
Established in 1963, the Science Center is a mission-driven nonprofit that commercializes promising technology, cultivates talent, and convenes people to inspire action. With partnerships across top academic and research institutions, industry, and healthcare systems, the Science Center is helping life-saving technologies transition from bench to bedside and nurturing a workforce that supports a 21st century economy. For more information, visit sciencecenter.org and follow @UCScienceCenter.