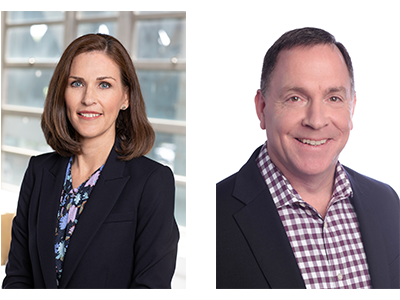 PHILADELPHIA – (July 25, 2022) – The University City Science Center has elected two new Board members following its Annual Meeting of Shareholders on June 23rd: Aileen Alexander, CEO of Diversified Search Group, and Tom Gordon, Managing Director of Silicon Valley Bank.
"We are thrilled to welcome both Aileen and Tom to the Science Center Board of Directors. Their combined expertise across technology, talent, venture capital and entrepreneurial support is not only proven, but will be a great asset to our organization as we continue to chart a path forward in advancing healthcare innovation and cultivating STEM talent," says Science Center President & CEO Tiffany Wilson.
As Chief Executive Officer of the largest woman-founded executive search firm in the world, Ms. Alexander is responsible for oversight and management of the company. During her career, she has utilized her expertise in technology, cybersecurity, risk planning and succession management to lead C-Suite and Board level searches for clients ranging from large, global corporations to high growth entrepreneurial companies, and to empower clients and build diverse teams. Her previous experience includes serving as a Managing Partner at Korn Ferry, where she co-launched and co-led the firm's Global Cybersecurity Practice and was also a member of the Technology Officers of Aerospace and Defense practices; Heidrick and Struggles; the Department of Defense; and the U.S. House of Representatives. She is also a military veteran, having served as a Captain in the U.S. Army. Ms. Alexander currently serves as a member of the CEO Council for Growth at the Greater Philadelphia Chamber of Commerce, and as a board member for her alma mater, Villa Joseph Marie High School in Holland, PA. She earned a Master of Public Policy from Harvard University Kennedy School of Government and a Bachelor of Arts from John Hopkins University.
As a member of the SVB Financial Group, Mr. Gordon oversees the Life Sciences and Healthcare markets in the Mid-Atlantic, leading a team that works closely with private equity in these sectors. His previous experience includes Corporate Banking and Specialty Financing roles at PNC Bank and Bank of America. He supports the local entrepreneurial community in the Mid-Atlantic through the Philadelphia Alliance for Capital and Technologies (PACT), Life Sciences PA, BioNJ, the New Jersey Technology Council and the Pittsburgh Venture Capital Association. Mr. Gordon holds a degree in Finance from the Pennsylvania State University and an MBA from St. Joseph's University.


About the Science Center
The University City Science Center is Philadelphia's premier catalyst of entrepreneurial activity, healthcare innovation, and economic growth. Established in 1963, the nonprofit has been recognized by The Brookings Institution as a best-in-class investor, mentor, and economic development partner for young technology companies. Working alongside industry partners and leading research and academic institutions across the globe, the Science Center has supported over 1,000 early-stage companies. Today, the organization advances healthcare innovation from idea to the marketplace through startup support services and building inclusive STEM pathways for Philadelphia youth and adults. For more information visit sciencecenter.org or follow us at @UCScienceCenter.