EKG Exhibits
With Whom We Walk This Earth
Thursday, Sep 17, 2020 - Saturday, Nov 28, 2020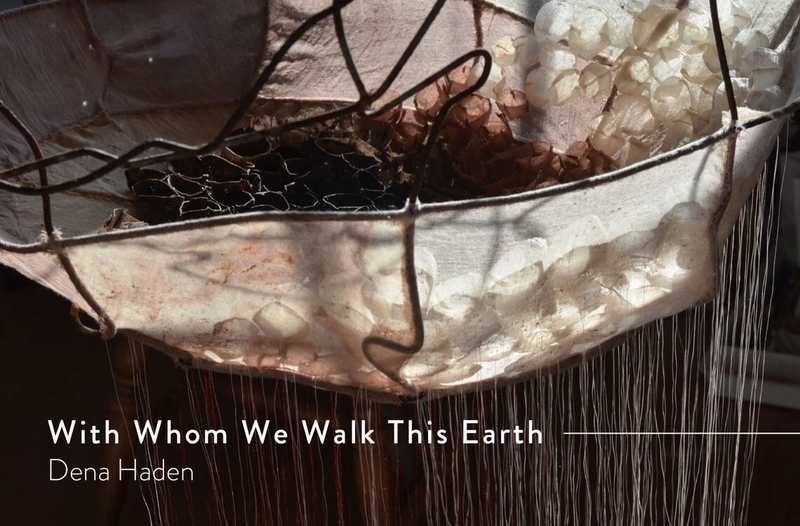 Artist: Dena Haden
Using materials such as kombucha culture and alpaca fiber, Haden creates moments in time to honor mother nature and the seeds of life that surround us. Her work captures an experience of light and tactility through sight and viscerality; the interplay of each piece is an expression of the rawness and beauty of existence. In an attempt to embody the ebb and flow of life cycles coming into form; living, ever-changing and malleable, and the residue they leaves in passing, Haden uses her practice as a way to connect through materials and awareness.

Haden is an installation and fiber artist from Berkley, Massachusetts who uses found wood, metal, fiber, wax, plant materials and kombucha culture to explore the natural cycle of something coming into form, living, ever-changing and malleable, and the residue it leaves in passing.
She views making art as a practice to connect; surfacing rhythmic energies and searching through sound, movement, material and her own state of awareness.
Dena Haden is the Program Director for the Co-Creative Center, a space that offers members the ability to develop and create the work they are passionate about, while offering the opportunity for community growth and collaboration. Haden is also the co-founder and team member for SuperflatNB, a Mural Arts organization in New Bedford, Massachusetts. For her work in the arts, Haden has received many awards and grants, including the South Coast Emerging Leader Award, Entrepreneur of the Year Award from the University of Massachusetts Dartmouth, and a Mass Cultural Council Grant.
In addition to her work in the arts community, she has an extensive exhibition record of her own, with numerous solo and group exhibitions in Boston, Philadelphia, and around the North East. Haden has also exhibited internationally in Europe and now Japan.
Dena was recently enrolled in a residency at the Arrowmont School of Arts and Crafts where she created work that will soon be exhibited in an upcoming solo exhibition at the Esther Klein Gallery in Philadelphia, Pennsylvania.
Physical Esther Klein Gallery Hours: (following September 17th Opening Event)
Free of Charge - Admission By Appointment (to make an appointment, email ekg@sciencecenter.org)
Face Masks and Temperature Checks Required
Only 5 Visitors at One Time
Wheelchair Accessible