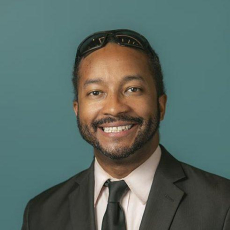 Phil Brooks

Director, STEM Workforce Partnerships
Phil Brooks joined the Science Center in 2019. As the Director of STEM Workforce Partnerships, Phil is responsible for developing and maintaining relationships with life science and technology companies to create training models that will employ Philadelphia residents in the STEM field.
Phil joined the education based AmeriCorps program City Year Philadelphia where he served as a Senior Program Manager and led over 200 18-24 year old young adults in full time volunteer service. After a 10 year commitment to City Year, he joined the Mayor's Office of Education as the US2020 (Makers + Mentors Network) Program Manager of STEM Initiatives. Later, his work transitioned to the Commerce Department's Talent Development Unit and finally to the Office of Workforce Development where he oversaw the City of Philadelphia's citywide STEM Initiative that engaged, connected and convened citizens in the region.
Phil Went to Girard College high school then received his B.S. in Biology form American International College.
When Phil isn't at the Science Center, you can find him spending time with his family and learning martial arts.
email hidden; JavaScript is required