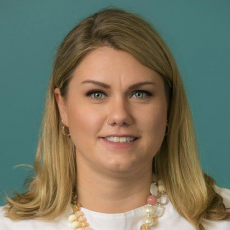 Angela McQuillan

Program Manager & Experience Designer, Venture Café Philadelphia
Angela McQuillan is an artist, curator and designer, whose passion lies in connecting people and showcasing creative talent and new ideas. She has ten years of experience working in scientific research and pharmaceuticals, eight years working as a graphic designer, as well as an art school degree. With this unique background, Angela loves to curate multidisciplinary events that convene people with diverse knowledge and skill sets.
To this date, Angela has curated over 40 art exhibitions relating to science and technology, including exhibitions by internationally recognized artists working with biological media. Angela currently works as both the Curator at the Esther Klein Gallery, and the Program Manager and Experience Designer at Venture Café Philadelphia. She also oversees the University City Science Center's BioArt Residency which she founded in 2017 with the CEO of Integral Molecular Dr. Benjamin Doranz. This residency program recently won the 2019 Art + Business Partnership Award by the Philadelphia Arts & Business Council. Angela is also a current member of the Grizzly Grizzly artist collective based in Philadelphia. Her work has been featured in prominent publications such as The New York Times, Forbes and SciArt in America.
email hidden; JavaScript is required